WAHS Alum Experiences Lockdown….in France
Like many Americans stuck abroad in foreign countries due to Covid-19, WAHS alum, Michael DeSimone (who's coincidentally my brother), went to Besançon, France, a sister-city of our very own Charlottesville. Michael went to teach English at a French high school and middle school in late September of 2019. When the Coronavirus spread throughout Europe many countries quickly closed down, one of them being France.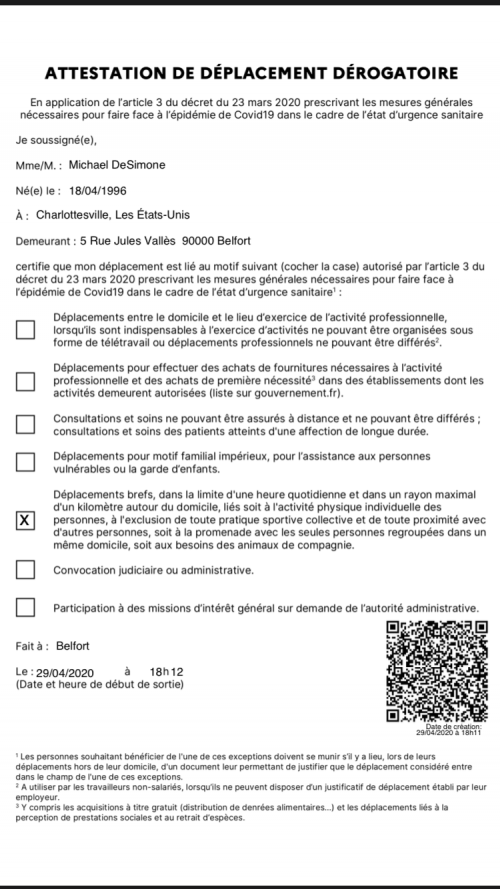 When Michael found out he was in lockdown he was initially excited. He thought he was
going to have an extended vacation visiting bars, restaurants, and tourist destinations around the country. Sadly the exact opposite happened, being quarantined by law in his apartment with his French roommates. While in quarantine,
Michael goes out onto his balcony overlooking the plaza next to his apartment. Almost everyday at around eight o'clock, he sees the medical workers changing shifts, walking to and from their homes as the people in the apartments above cheer and clap for them, thanking them for their service during the time of a pandemic.
Going outside your home in France is very different from the US, with the French government requiring you to fill out a
certificate with your ID and information explaining your reason for being out in public. Anyone walking around in France can be stopped by the authorities and questioned about their whereabouts. Getting caught outside without a certificate can lead to a massive fine.
Once the lockdown is lifted, Michael plans on going to Paris shortly before coming back to the US. 
 "I can't be the guy that goes to France and never went to Paris," he says. "I also plan on shaving my quarantine-beard to look like a Civil War General." 
Overall, Michael's experience in the sister-city of Charlottesville is very different to the one we're currently experiencing, so much so that the French government plans on reopening the country May 11th.