Extraordinary Endangered Animals: Purple Frog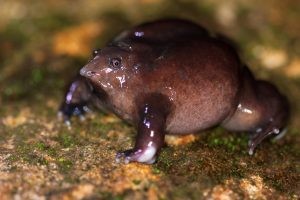 The purple frog, or the pig-nosed frog, looks like a grumpy purplish blob with a pointy nose. Scientists discovered this frog only 18 years ago in the Western Ghats of India, and it belongs to the family Nasikabatrachidae which has been evolving independently for 120 million years. Its specialized genes make the species particularly susceptible to environmental changes. Although these unusual amphibians have spent millions of years evolving, their survival is currently threatened. 
This species of purple frog essentially spends its entire life underground. It uses a long tongue to eat ants and termites in its underground home. The purple frog surfaces only when the monsoon season begins, which means that it's time to mate. 
Males call out from underground to attract a mate, and their mating call has been said to sound like the cluck of a chicken. Then, they mate with females in streams where they drop the fertilized eggs. The eggs are hidden in the crevices or undersides of rocks in the stream, making them hard for any predators to find. After a few days, tadpoles hatch from the eggs. 
Then these tadpoles use their sucker-like mouths to attach themselves to algae-covered rocks in the stream. They eat these algae with their small teeth for around 100 days while they develop into frogs. 
The International Union for the Conservation of Nature's Red List has listed the purple frog as endangered. Unsurprisingly, this species is endangered due to human activity. Its habitat is being converted into cropland. The conversion of its habitat creates different conditions than the amphibian is used to, leading to its relocation or death. 
In addition to this, their populations are decreasing because people are eating the tadpoles. Locals consume the tadpoles because they think they have medicinal properties. Ashish Thomas, an assistant professor of environmental studies at the University of Delhi, found that this happens in the tribal communities of Kerala.
Although the population of the purple frog is declining, there may be hope for this little amphibian. With tribal education and sensitization, communities could learn to stop harvesting the tadpoles. 
Specifically, the Zoological Society of London's EDGE of Existence program is working with Sandeep Das, an EDGE fellow, to conduct research and encourage community involvement. Sandeep has gathered volunteers to clear litter from breeding grounds, as well as convinced the Kerala Forest Department to restrict access to breeding sites. He also simply raises awareness of the importance of this frog in local communities. 
So what can you do to protect this bloated creature and the biodiversity that comes with it? First of all, don't support the deforestation of rainforests. Make sure you are buying rainforest-friendly products, such as Rainforest Alliance certified products. Also, start in your community. Educate your friends and family about the importance of biodiversity and what we can do to preserve it. Although you may not be saving the purple frog directly, you will be inspiring people to preserve the biodiversity of our earth.
Sources:
https://www.ontheedge.org/species/purple-frog
https://news.mongabay.com/2015/10/eaten-to-extinction-indias-purple-frog-faces-another-threat/
https://everywherewild.com/purple-frog/
https://www.nationalgeographic.com/animals/article/purple-frog-new-species-discovery-india-monsoon
https://www.zsl.org/blogs/conservation/the-enigmatic-purple-frog
http://www.edgeofexistence.org/species/purple-frog/
https://rainforests.mongabay.com/kids/animal-profiles/indian-purple-frog.html