What Makes Max Morrison
Life is not always fair.  We have all heard that saying but sometimes it goes beyond not fair.  A little more than a year ago Max Morrison had surgery on his left knee because he had torn his ACL and meniscus while wrestling.  And for a guy who loves the outdoors this really affected him.
"We take like a two and a half week fishing trip in the middle of summer that was hard to do because I still had my knee brace on and stuff like that" Max says.  
He could not wrestle for almost a year.  He has now wrestled for four years now. Max had tried all the other sports before he found wrestling in middle school.  It was "my first year wrestling and I found that it was truly what I enjoy." He says, "It's a lot different than any other sport, its going out there one on one.  You can't blame a quarterback for a bad pass." It is a one on one sport he does it by himself.
There is a lot of preparation in wrestling.  There is the physical aspect and the mental aspect.  And for Max, feels that people don't think about the mental aspect side of wrestling.  "A lot of people don't understand."
Wrestling Coach Mulcahy agrees. "The discipline and commitment you need to have to wrestle because of all things they do.  You wrestle as hard as you can no matter who is out the. Who's ever trained and worked the hardest will win," he says.
Max wrestled on the JV team as a 8th grader and when he got to his freshman year he was on varsity.  He missed regionals as a freshman by one whole win. And as a sophomore he had torn his ACL and meniscus so he could not go.  But finally as a junior he came back from his ACL tear and pinned the same kid, on the same mat which was a huge accomplishment to him.  This year Max went to regionals qualifier and came in first at his regional qualifier. He came in at fifth in the regionals. But his life does not end with wrestling.
Max loves the outdoors.  He loves to spend time with his family and friends. When he goes fishing, hunting or hiking he likes to go with his family.  Its combining two of the things he loves.
He says  "It's what I grew up with. And that's what I was kind of taught to love."  
But Max does so much more than just that.  When he has some free time he helps his mom at her store.  But most of his freetime goes to being as a volunteer in the Crozet Fire Department.  He does it one day a week. He does structure fires and car crashes. Max has always wanted to help out his community somehow and this is what felt like a good way to do it.  For Max when he ran his first structure fire he got tasked with keeping the women calm and helping her out.
"That was when I could really feel that I was actually helping someone. … You can make someone's bad days like that much better.  Helping them stay safe. It meant a lot."
About the Writer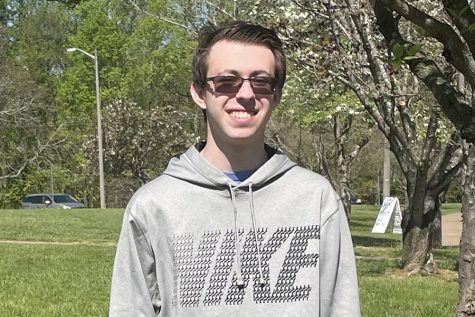 Alex Noth, Sports Editor
Alex is a junior and is in his his third year of journalism. He is the sports editor for the newspaper. He likes any team from Chicago except the Cubs.