European Football Survives in Spite of Owners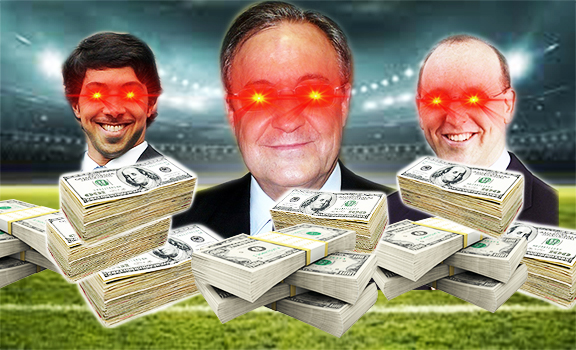 It's hard to quantify what European football means to its fans. While it may seem inane to most people, the relationship between a fan and their team is not unlike a marriage. Fans endure the highs and lows, but at the end of the day, you're committed to your team.
With that being said, the relationship between fans and the owners of their teams is often closer to an abusive relationship. Year after year clubs will promise to invest in the team's future during the offseason with new facilities or an improved squad, but more often than not fans are left disappointed. 
Football is truly the game of the working class. It transcends many of the social barriers that so often inhibit equity in the world. In fact, many of the massive football clubs that dominate Europe year after year were born out of laborers from different companies kicking around a ball during their breaks, eventually forming leagues to play against each other.
You'd think a sport with such humble beginnings would operate under the principle of, "for the people by the people," with fans being allowed a say in the financial decisions of clubs. After all, they do bring in massive quantities of money each year, but this is not the case. In Europe, many of the football clubs at the highest level are owned and operated by greedy billionaires looking to maximize profits with little to no input from the fans. 
This failure to accommodate fans extends past disappointing off-seasons, more recently, European football fans have been afflicted by skyrocketing ticket prices, making games much more exclusive, and therefore isolating thousands of fans who simply can not afford the exorbitant prices; the same working-class people that founded these leagues, are now being priced out of even watching a game.
All these factors led to a widespread distrust of club owners long before clubs came together and decided to form The Super League. This proposed league would've pulled twelve of Europe's biggest clubs from their respective domestic leagues, and placed them into a closed-off, exclusive league with substantial financial rewards.
To someone unfamiliar with the world of European football, it may not be entirely clear why this league was so unpopular. The first, and perhaps most obvious reason, is the exclusion of smaller clubs with less bountiful histories. By seceding from their respective domestic leagues clubs ensured that lucrative TV deals that many smaller clubs rely on for financial security would be funneled entirely to the clubs in the Super League, leaving the smaller clubs high and dry.
The second is the evasion of financial regulations. The current governing body in European football is called UEFA. In the hopes of instilling parity and preventing debt, UEFA implemented guidelines called Financial Fair Play or FFP. These guidelines sought to limit the amount of money clubs were allowed to spend so that leagues weren't "pay to win." Unfortunately, clubs continued to spend past the limit and UEFA often wouldn't discipline the perpetrators. However, more recently Manchester City, a club notorious for suckling off the teat of its wealthy Saudi Arabian owners, was ordered to forfeit their rights to participate in the Champions League, the current continental tournament that teams earn the right to play in by performing well domestically. While they appealed this decision and won, their owners were undoubtedly shaken up by this and sought a way to evade them. Other clubs have incurred fines as a result of breaking Financial Fair Play in the past, likely contributing to the secession.
The last reason is the least objective, but to some people, the most important reason: European Football as we know it is an institution, and changing it would be practically sacrilegious. The current system employs the Champions League, and as previously mentioned, requires teams to earn the right to compete, no such adversity would exist with the Super League. Nearly everyone agrees that a goal feels much more deserved when you've had to earn it, and that's no different with achieving the right to play in the Champions League. The Super League would've also done away with the domestic leagues, leagues that players and fans alike have dreamed about winning for years. For many, the destruction of their status quo was reason enough to be outraged.
Days after it was announced, owners began holding panicked board meetings about the overwhelming backlash, and one by one clubs began announcing they would be leaving the Super League. It felt good, yes, but it also felt like there was irreparable damage done to the relationship between the fans and the owners. We felt hurt, in a way that's hard to describe. We knew most of the owners of our clubs weren't saints per se but to do something on this scale? It was unthinkable. The cloud of betrayal hung over us, and no copy-pasted PR response about listening to the fans would blow it away. 
In my opinion, however, looking back, the Super League was a success story. Not on the part of the billionaires of course, but a monumental victory for the fans. Millions of fans came together to protect their beloved game. Fans from rival clubs were united in protest, a sight as rare as a blue moon. So often as football fans, we feel utterly helpless, but this whole ordeal proved that the voice of the people is much, much, stronger than any of us had thought. 
However I do have my concerns:  yes, we as football fans managed to save our clubs from the Super League, but for how long? My fear is that owners of these clubs will continue to toe the line, and experiment to see just how far they can push us before we push back. 
It is now our responsibility to continue holding the owners of our clubs accountable whenever we see fit. My favorite club, Manchester United, has already begun this process. United is owned by an American family, the Glazers, who are some of the most infamous owners in all of sports. Their unwillingness to invest in the club coupled with their accumulation of debt in the club's name has displeased fans for years. However, following the collapse of the Super League, I have noticed a willingness to mobilize in protests against the Glazers. Very recently, fans were even able to postpone a game with their protestations. As long as protests stay non-violent I am all for this approach.
Continued resistance will require club lines being broken in order to unite against greed and to stamp out corporate overreach. If we as football fans want our sport's integrity preserved, it's going to take all of us.