Lawsuit Seeks to Undermine Essential Education About Race and Culture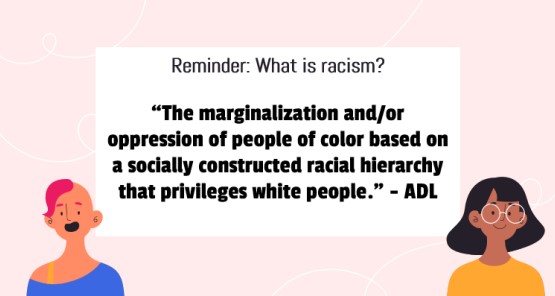 Let's talk lawsuit. On December 22, 2021, five local families, all with children from the Western feeder pattern, filed a lawsuit against the Superintendent's Office and the Albemarle County School Board, seeking an immediate injunction against the enforcement of the Anti-Racism Policy. Since then, ACPS has filed a demurrer to have the lawsuit dismissed. 
Instead of supporting students and educators after a devastating pandemic, this lawsuit only wastes time and resources while preventing students from engaging in conversations about racism, which nurture essential life skills.
The plaintiffs are represented by the Alliance Defending Freedom (ADF), an Arizona-based organization that describes itself as "committed to protecting religious freedom, free speech, marriage and family, parental rights, and the sanctity of life." 
With little more research, however, you will find that ADF is designated by the Southern Poverty Law Center (SPLC) as a hate group for supporting the recriminalization of consensual sex between LGBTQ adults, defending the state-sanctioned sterilization of trans people, and claiming that the "homosexual agenda" will destroy society. A hate group has no place in our schools. 
The Anti-Racism Policy, passed by the Albemarle County School Board in 2019, seeks to recognize that systemic racism will always be an impacting factor in schools and sets out objectives to address achievement inequity in the Division. The lawsuit argues that this policy is "racist at its core" as it "indoctrinates" students into viewing all facets of life through a lens of race. The lawsuit is primarily based on experiences resulting from the program "Courageous Conversations About Race" which was piloted at Henley in 2021.
The lawsuit goes a step further to write that the program is a form of critical race theory, which, despite never having been taught in Virginia public schools, has become a source of national debate, with Governor Youngkin acting to ban critical race theory and a lawsuit against equity programs in Loudoun County Public School. As much as the Youngkin administration wants to expand the definition of critical race theory via their use of the tip line to report "divisive concepts," critical race theory is not any curriculum relating to race and it is not all anti-racism education.
Specifically, the lawsuit lays out five major areas of complaint in which it claims the policy violates the Virginia Constitution. First, is the right to freedom from racial discrimination, under which the lawsuit asserts that policy-directed curriculum discussing race and confronting how racism benefits white people, creates unequal racial stereotypes that violate equal protection rights. Plaintiffs also argue that the policy enforces viewpoint discrimination, in labeling "those who disagree with their ideology as racist," and violates compelled speech doctrines by propagandizing racial curriculum. The next cause of action is that the policy-directed curriculum promotes religious discrimination by "teaching that Christianity is a 'dominant' 'identity' that has oppressed 'subordinate' 'identities' such as Islam, Buddhism, Judaism, other non-Christian religions, and atheism." Lastly and most common in the cases that ADF tends to take, is the claim that the Anti-Racism Policy violates parental rights to have some control over their children's education, "to opt their children out of indoctrination and disparate treatment."
To win any civil lawsuit, the plaintiffs must prove by a "preponderance of evidence" that they were impacted or hurt by the policy in question. The Courageous Conversations pilot program that this case centers around, which only conveyed information, has elapsed and currently has no plans to be brought back. According to the Daily Progress, one of the student plaintiffs did not attend the program and was not punished by the school. So where was harm caused? The lawsuit references plaintiffs being made "uncomfortable," "confused and upset" or being "confronted" for being Catholic. Yet no student was punished or silenced for dissenting- so the success of the lawsuit, beyond unnecessarily consuming the resources of public schools, would be unlikely. 
Regardless, being made uncomfortable by systemic racism is not harmful, it is expected and necessary. Confronting the biases of ourselves and others is uncomfortable, but that is essential to having literate conversations about race.
Additionally, in a public school system that serves 13,697 students, the eight students in the lawsuit and their complaints do not represent a large enough portion of the student body to dictate the court's action against a policy otherwise positively impacting the majority of other students.
The argument that race-based equity programs are unconstitutional on the basis that they violate equal protection rights is not new. Similarly to this lawsuit, "reverse discrimination" has been used to fight the Voting Rights Act, affirmative action, and the Indian Child Welfare Act, all programs that are widely recognized to be, for lack of a better phrase, good things. 
By working against a policy that facilitates discussions about race, the plaintiffs sanitize history and withhold from students the essential skills necessary to talk about race. In a world in which white people have historically refused to or been afraid to talk about race, it is especially important that the future generation is raised to have those skills.
This lawsuit holds the belief that the Anti-Racism Policy is inherently racist and that removing the policy will fix that. To speak generously about these efforts would be to say that the plaintiffs hope to rid the world of racial category by not focusing on race. So-called "color blindness" invalidates the experiences of people of color. So no, not talking about racism does not "fix" racism, it does the opposite.