WAHS Drama Presents "Little Women"
WAHS theater has persevered through the obstacles accompanying virtual and hybrid school. This spring they decided to put on the timeless classic: Little Women, the Musical. Written in 1868 by Louisa May Alcott, the novel has sold millions of copies and continues to astonish readers today. Little Women was first adapted as a play in 1912 and, since then, it has been performed on countless stages, with the new addition of the WAHS theater. The play will take place Friday, May 21 at 7:00 pm and Saturday, May 22 at 2:00 pm and 7:00 pm. Tickets will be available online. The play will also be recorded and available to viewers at home.
Because of COVID-19 restrictions, the drama department has had to alter the way it operates during productions. Many changes have been made to accommodate safety protocols, including wearing masks throughout the entire production, along with staying 6 feet apart. "Our emotions have to be conveyed through our voices and physicality since the audience can't see our whole faces," explained junior Lilly Clark, who stars as the March family's youngest sister, Amy.
Cast members have had to learn and adapt to a whole new style of acting, but they've done an incredible job of it. "We have managed to create something really beautiful and everyone has worked so hard," explained Baylee Hughes who stars in the lead role, Jo March.  "I think the audience will be surprised to realize it almost feels like watching a normal production, even with the COVID safety precautions."
Despite these difficulties, the cast has persisted, and they're bringing something new to the table. "Because we can't stand right next to each other in our version, we had to figure out a way to animate the family without just proximity." Lilly Clark explained, "We're bringing something new to the story by showing how loving and close a family can be even when they are apart. It brings a whole new emphasis to the message of the story."
Different types of people are represented in the show. Everyone can see a little bit of themselves in the characters and, because of that, anyone can enjoy the show. The efforts of the endlessly talented cast allow the audience to be transported into an incredible world of friendship, love, and family. "It's [the play] funny, it's sad, and you really connect to the family that's on stage. Overall, I think it is just a fantastic show," said senior Ainsley Miller, who portrays Beth March.
The cast and crew consist of 40 members and each has shown strength in the community as they adapt to the pandemic. Jack Malin, who stars as Laurie, said, "Everyone in this show is really, truly involved in it. Even the ensemble, who are taking the role of the stage crew for this show, have been to countless rehearsals and have been there at every step towards the end goal." 
Despite the many difficulties that the cast has had to overcome, they've managed to create a brilliant show. "I think people will be surprised by the talent level," Hughes added. "As always, our cast is really amazing and everyone does a super professional job."
Tickets are available online and the show is recorded online for at-home viewers.
About the Contributor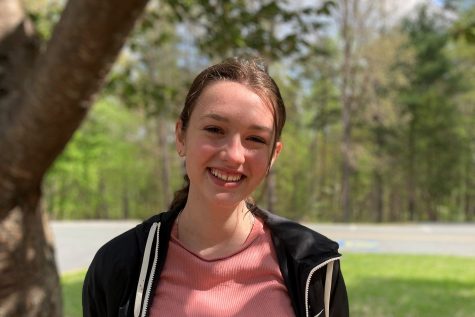 Sephira Ainsworth, Staff Writer
Sephira is a freshman in her first year of journalism. She is passionate about equality and human rights. In her free time, she enjoys reading, baking,...