Musicals in the Making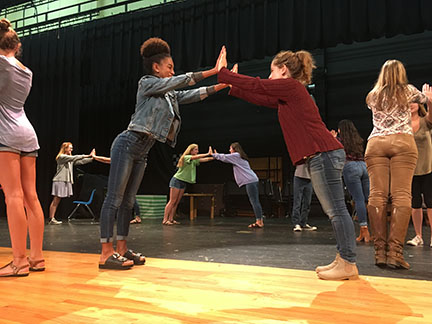 Infant and the Beast, also known as Harambe the Musical, was born just a month ago when Ms. Pitts assigned her musical theatre students to produce a musical. It was recently performed by the class, including Benjamin Jessee, who played Harambe. Benjamin and a group of his classmates made the show using songs from different musicals. Harambe the Musical, is the story of the famous Gorilla, Harambe, and his journey of going to the Cincinnati Zoo, with the twist of him falling in love with the child that fell into his enclosure. The musical ends with him becoming an angel while the others sing an altered version of the song "Tomorrow" from the musical Annie.
"It goes 'Harambe, Harambe, I love ya Harambe," sang Benjamin Jessee.
This year Ms. Pitts is teaching the first ever musical theatre class at Western, which takes place during seventh block.
"The class is basically broken up into three main parts, and the three main parts are singing, dancing, and acting, because that's basically what you do in a musical." Ms. Pitts said.  In the class, the students are also taught how to write musicals.

The class is now working on the show called How to Eat like a Child. They will perform the Musical for Western on Thursday October 20th. They will also perform at Monticello High School for the County Drama Festival, and at the VHSL theatre competition taking place in Rockingham County at Turner Ashby High School.
So far, the students are really enjoying the class,
"I definitely love all the people that do it, it's so fun to just do something that I enjoy with so many people that enjoy it as well," sophomore Aimee Schill said.
This winter Western can look forward to the class performing Into the Woods. They will also perform the show in a competition at Virginia Tech this upcoming February.