Travis Grice Rocks Jorts
13 years and seven instruments ago, young Travis Grice set off on his musical journey. Starting with piano Travis soon became literate in the art of music, and has become a leader on the forefront of drumline education. Or something like that.
Accumulating seven years of concert band classes, five years of jazz band classes, and 13 years of everything else music has to offer, Senior Travis Grice has made school one big musical adventure, rather than an educational bore.
"My favorite band memory?  Probably the entirety of sophomore year in drumline. That year was a party."
Taking six music electives this year (out of the eight period schedule) has made each day for Travis a little different than the average student. "The fact that it's all music classes, is really fantastic," says Travis. He was able to achieve this unique schedule by taking summer school courses over summer vacation, and doubling up on science as a sophomore.
His self expression is certainly evident in his musical style. His "main" instrument is tenor sax, although he can play a variety of instruments. "It really bridges the gap between the lower notes…I like melody, but I also like being able to honk [the notes] out."
This year, Travis played lead tenor in the Jazz Band and had two solo performances in the spring concert. One of which was a song chosen by band director Mr. Hartshorn with Travis in mind, "Angel Eyes."
On top of the tenor sax, Travis has also spent two or three years singing tenor with Western's choir.
"Singing's great, it's super easy and expressive. Wherever you are you can sing a little," said Travis. "It's definitely affordable."
Next year, Travis will be attending the VCU Jazz Studies program.
About the Writer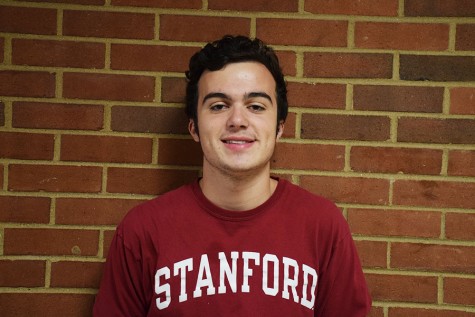 Tim DeSimone, Co-Editor in Chief
Tim is a senior, and a Co-Editor in Chief of the Western Hemisphere, the finest news source south of the Washington Post. He focuses dominantly in News,...