Sam Stoke's Journey Through Western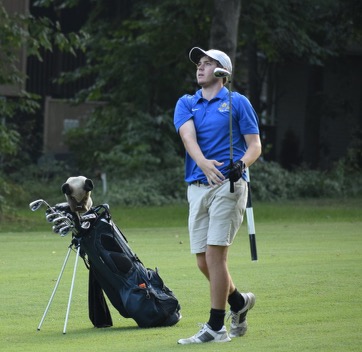 Sam Stoke is a senior and a veteran of the Western golf team. Many would describe him as a clever, mysterious person with numerous traits and hobbies. While golf has always been his primary focus, Sam has a multitude of passions that make him a unique person.
Stoke has a musical background in the clarinet, which he played from 6th to 9th grade, though according to him he "never took it home to practice." "I also enjoy reading metamathematics and competing in Pokemon card tournaments for cash," said Stoke. Though he doesn't participate in the tournaments as much as he did before high school, he still collects Pokemon cards religiously and is grateful for the great experiences he has had.
Over the past couple of years, Sam has also picked up weightlifting and has made great progress in the gym which he partially attributes to aspects of his golf game. Above all else, Sam values his main sport of golf and it has consumed most of his time since he first tee'd off. Sam has played golf for the past 7 years, beginning his career with lessons at Old Trail golf course, which conveniently is only a short walk from his house.
Throughout his golfing journey at Old Trail, Sam managed best rounds of 32 on 9 holes and 68 on 18. For non-golfers, these scores, both being well under par, are incredible even for experienced players. Arriving at Western already somewhat of a veteran, Sam easily made the varsity golf team as a freshman. He even achieved a spot on the starting six during his freshman season, and from sophomore to senior year he sealed that spot much more consistently.
Throughout high school, Sam has contributed many great scores to the Western team helping them remain the best golf team in the district. "My biggest accomplishment was only having one regular-season district loss in my entire four years of playing golf," said Stoke. Yet even after such a fantastic high school career, Sam's future with golf isn't what you might expect. "I don't really want to pursue golf seriously after high school, I'll probably just play for fun," Stoke said. He decided not to play at the collegiate level and intends to leave competitive golf completely. However, it is safe to say that his golf experience has been nothing short of impressive and WAHS will surely not forget his legacy.