School Board Ends Class Rank
Decile rank discontinued for 2014-2015 and beyond
After two months of discussion and deliberation, the Albemarle County School Board voted at their November 14 meeting  to end class rank for the 2014 – 2015 school year and beyond. By a unanimous vote, the Board ended the policy of reporting decile to colleges and universities.
Board member Eric Strucko motioned to end the reporting of class rank for the 2013-2014 school year, but Assistant Superintendent Billy Haun explained that approximately 43 percent of student transcripts have already been submitted to colleges and that it would be impossible to edit submitted applications. The board voted and Strucko's motion failed, meaning that rank will continue to be reported for the current senior class
Although class rank has been discontinued for future years,  "ACPS will continue to report class rank for special circumstances: military academies, honors programs, scholarship opportunities and recognize honor graduates at the end of the senior year," a report to the Board said.
Amy Wright, director of counseling at WAHS, supports the change. "It gives an opportunity to a greater number of students to potentially get into a selective college…because it forces the admissions [offices] to look more holistically at the applications," she said.
While the Board considered an alteration to class rank, WAHS students debated both sides of the issue.
"I don't support [the current class rank system] because my sister was the twenty-sixth person [out of the top twenty five] last year and she had to put it on her college applications,  even though they realized it was less than a one percent difference," junior Madeline Chaillet said.
Chaillet's sister, Aubrie Chaillet, placed at the top of the second decile at the beginning of her senior year, and despite working her way into the first decile by the end of senior year, was required to report her second decile rank on her college applications that fall. Aubrie is currently in her first year at UVA.
"I think it's silly that we have to rank people because you're still smart if you aren't in the first decile," Chaillet said.
Senior Cy Webb also wanted to end class rank and explained that he believes there is a relationship between student health and class rank determined by decile.
"The big [issue] now is school stress and people are taking way too many APs in my opinion…but the decile system and the GPA system is pushing [students] to take all these hard classes even if they don't want to take them because it gets them into a good school…and I think that's definitely unfair. I think you should take what you enjoy, I think sleep is very important, I think school stress here is a big problem, and I think we should limit the [number of]  APs you can take."
Meanwhile, opponents of the change believe that the current class rank and decile system rewards hard work and should stay in place.
"It puts a value on people who did well. They can distinguish themselves from everyone else," said Kyle Landis, a junior. "There's a big difference between [the top] twenty [percent] and [the top] ten [percent]." Landis argued that earning several Bs versus straight As is an important distinction between the deciles.
Junior Hannah Pambianchi also favors the class rank system, believing that it holds students accountable to  the rigor of classes.
"I feel like students should be evaluated on the level of classes that they take and I think college like to see that students are challenging themselves," Pambianchi said. "Weighted GPA and class rank shows how you compare when students are given the same resources and opportunities in one school."
However, Pambianchi admitted that the weighted GPA system "needs some sort of revision" because she feels that it discourages students from pursuing their passions, such as art, music and drama.
"I don't think rank or GPA reflects a whole person," she said. "If you show dedication or passion in one area, even if it doesn't raise your GPA, it reflects other aspects of you and what you want to do with your life."
About the Contributor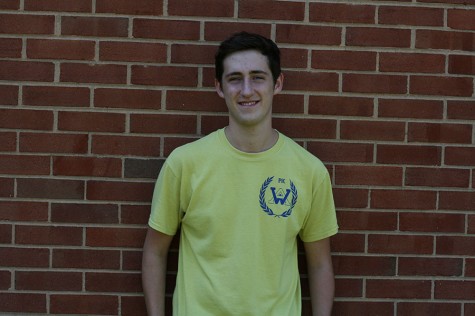 Tim Dodson, Editor in Chief - News
Tim is a senior and Co-Editor-In-Chief, with a focus on news content. When he's not writing stories, tweeting, or leading student government, he can...