A Celebration of Music
Online concerts bring us together while we're at home
As time stands still on the bare streets from around the world, and millions of people are  forced to stay home, we are relying on music to connect us spiritually and to create hope and joy through the trying times of the global pandemic. Whether it's a trumpet blaring from the neighbor's window or a livestream of popular artists on YouTube, music has unified and brought millions of people together, even while quarantined and away from loved ones.
Back in early March, when Italy was shut down and fear seemed to be floating through the air, Italians came out onto their balconies and joined together to share their love of music. Many began to spread the word through social media and slowly more and more people around the world were able to experience the various performances from the many windows of Italy. 
"I hear singing through the windows to the damaged world. We offer this gift," singer Lara Fabian sang in her new song released in early April. 
Here are some of the most uplifting and unifying clips of music that were posted to social media while in isolation.
 In the first clip,  a trumpeter in Italy performs "Imagine" by John Lennon on his balcony as neighbors enjoy the beautiful sound. 
Next, people from several balconies at a Sicilian apartment building played multiple instruments, sang, and danced together.
At the top, check out this locally-produced version of "Lean On Me," which features 52 musicians from Charlottesville (including WAHS alums) who collaborated in order to help spread joy while we are all social distancing at home. 
If you have seen the Disney movie, Coco, it includes the song, "Llorona". The YouTube channel 120 minutes made a parody of it called "Corona". The song features many people from different countries and languages who are singing about coming together.  Make sure to put the captions on so you can understand what they are saying. 
To see more musical concerts, you can look up #TogetherAtHome to find a wide variety of musical artists bringing everyone together. The hundreds of videos posted to social media are reminders to the human race that we can feel connected with one another, even while the virus outbreak forces us to remain apart during this time. 
Donate to The Western Hemisphere
Your donation will support the student journalists of Western Albemarle High School. Your contribution will allow us to purchase equipment and cover our annual website hosting costs.
About the Contributor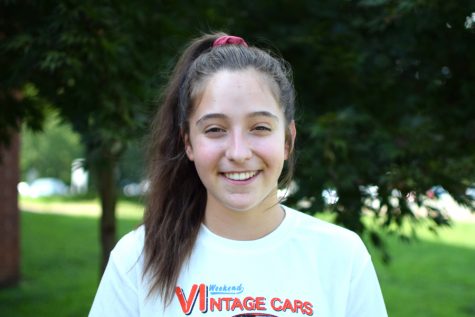 Michal Kipnis, Staff Writer
Michal, who also goes by Michael, Mik..uh..al, or Um is a sophomore. She enjoys laughing at her own jokes when no one else does, almost burning the house...