ACPS Announces Graduation Plans
The Albemarle County Public School system announced a new plan to honor the 2020 graduates. Although the COVID-19 disease has had a devastating impact on society, ACPS intends on delivering a special graduation experience for all seniors. According to the final document plan sent out to seniors and their families on April 28, "Following the distribution of cap and gowns, graduates and their families from each of our four highs schools will be invited to join us on an individual basis at our school. We will present them with the cover of their diploma, extend our congratulations and have a photo professionally taken. These photos will be incorporated into a professionally produced video for each school, together with pre-recorded remarks by each school's principal, our Superintendent and the Chair of our School Board. Each photo will be the personal property of the student. Once all assignments are successfully completed, actual diplomas will be mailed to each graduate." 
Furthermore, there will be a video for each high school that will acknowledge the, "special moments that define a graduation ceremony." 
Mr. McLaughlin, the interim principal of Western for the 2019-2020 school year, reflected on this ritual not occurring this year. "I'm really sad we will not be able to have our traditional end-of-year celebrations for our senior class. While it won't be the same, we've been working hard to give students an opportunity to come to school in their caps and gowns to have a picture taken receiving their diplomas that will then be turned into a virtual graduation video. I hope that sometime when things return to normal that we can invite the class of 2020 back to the school for a larger group celebration."
Alice Taylor and Lilah Dottori, two seniors who are also part of the WAHS Leadership program, shared insight on what they would ideally imagine for graduation. "Obviously, I always pictured graduation as this huge, long ceremony with everybody in their nice, fun clothes and their caps and gowns. If circumstances were normal, I'd love to have the opportunity to have a 'normal graduation', but at this point, all I want is some sort of gathering with the grade to visit and celebrate, maybe towards the end of the summer,'" Lilah said. 
Alice expressed a similar perspective on her ideal graduation. "I honestly have no idea what would be possible in June, but it would be great if there could be a ceremony, or multiple to make sure there are smaller crowds," she says. "More than anything I want to get the speeches that would've happened, so if an in-person ceremony can't happen, those being broadcasted in some way would be awesome."
About the Writer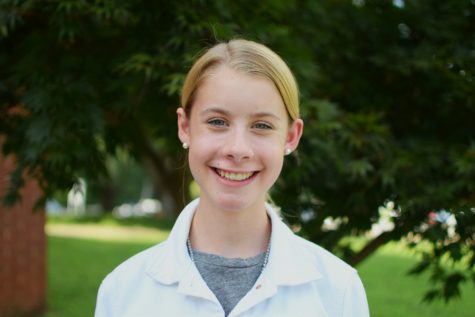 Prudence Fairborn, Staff Writer
Prudence Fairborn is a sophomore at WAHS and is in her first year of journalism. Prudence dances at Albemarle Ballet Theatre four days a week in challenging...