Boys Cross Country Represent WAHS at Nike Cross Nationals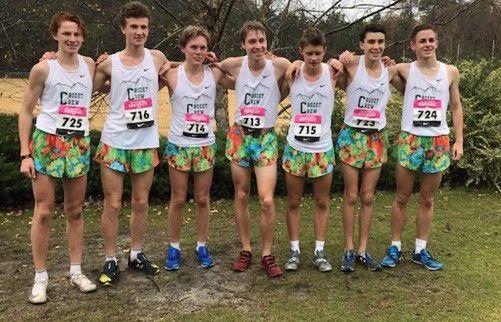 Ever since the start of the 2019 season, the boys cross country team has salivated at the thought of winning the Nike Cross Nationals Southeast Regional meet in Cary, North Carolina. Although it initially didn't look possible when elite runner Stuart Terrill went down with a stress fracture, their hopes were fulfilled this past Saturday, November 28th. The team received second place honors, and an invitation to compete in Salem, Oregon in the Nike Cross Nationals this weekend. The event is a 5K race, which is roughly 3.1 miles. Considering these runners' fast paces and the strength of the competition at Nike Cross Nationals, pressure levels are higher than in any race they've run prior to this. Jack Eliason, Joe Hawkes, Stuart Terrill, Will Bonner, and Joseph Taylor are providing clear evidence to be labeled in Western Albemarle's Hall of Fame of cross country runners by being one of the first teams to represent Crozet in this nationwide event. 
Senior Eliason lead the Warriors to a seventh-place finish at the Southeast Regional 5k meet timing in at 15:30, holding the pace of 5:10 mile time. Hawkes merely trailed Eliason by one second to finish 17th. Terrill followed clocking in at 15:43, placing him 33rd in this race. Bonner placed 45th for the warriors with a 15:51 and Taylor rounded out the top five at 16:05 with a 78th place finish. Although the stakes keep rising, these boys' performances continue to excel and they show no sign of slowing down. 
Commenting on the team's performance at the Southeast Regional meet, Assistant Coach Cassidy Girvin said, "I still don't think our guys ran their best race last week. We ran well, but we've got more. If we run our best on Saturday, I think we could be top eight-ten. And if things really go perfectly, we could be the first Virginia team to beat Loudon Valley High School in four years, which would be really sweet."
Spectators will be able to watch the race live via webcast on www.nikecrossnationals.com beginning at 9:30am PST. The boys race begins at 10:05am PST and the girls race follows with an 11:35am PST start time.