Club Profiles
Western's 61 new and returning club leaders gathered together on September 20th to plan for the upcoming year. Many of these leaders have big plans for this year, from hosting speakers to entering global competitions. Some are carrying on the work of past students, while others are laying their own foundations.
Swing Dance Club
Swing Dance Club was started by recent WAHS graduates Stuart and Amy Schill. The leaders of the club start the year by teaching new members the basics. For more experienced club dancers, the club provides time to practice, learn new moves, and dance at Albemarle High School's Jazz Band Dances. After Amy graduated last year, the club was taken over by Mae Evans, Katia Amos, and Isaiah Sorrenson. 
Evans, a senior, explained that this year she wants to, "Help people learn how wonderful and fun it is to dance and get outside of their comfort zone." Of course, she also hopes to swing dance more and teach others. Of any who are skeptical of the club, Evans said, "You may think you can't dance, but we'll show you how you can."
Gender and Sexuality Alliance
Justin Roberts is running the Gender and Sexuality Alliance for the second time this year, alongside Jessica Bright. 
"Basically, we want to use this year to actually improve our member base through things like journaling, meditation, productivity, etc.," Roberts explained. They want to keep the club active and productive because, "there's a myth of lazy activism and that's something that we want to dispel by actually giving our members tools that can help them live a more fulfilling life and eventually turn out that change into the broader community."
Robotics Club
Members of Robotics Club design and build robots with the hope of participating in competitions. Senior leader Teddy Bird explained, "Robotics is a club where we have a lot of kids come in and we build robots for a global competition and every year they pick a new challenge to… to provide a prompt for the engineering process." 
The robotics club has three teams: The Loose Screws, Cable Management, and Her Majesty's Engineers. Bird explained the process of a standard Robotics Club meeting, saying, "typically we'll talk about what we want to get accomplished that day and talk about how we're going to get things accomplished and who's going to do different things. We do a lot of drawings to make sure that what we're making works. Then we'll sort of separate into our different groups or disciplines- we have some people who are really good at programming, and some people who are very good at building." 
The club competes every year, but has never successfully reached the global level of competitions; however, that is one of their main focuses this year.
Audio Club
Senior Liz Jahoda-Wassung is founding the Audio Club to teach other students sound tech skills and how to apply them to school activities. Jahoda-Wassung said, "I'm trying to get a group of kids together that are interested to learn about sound tech and how to do it and then use that in the real world." 
She has also made plans with leadership to help with Spirit Week events, and the club will eventually do sound tech for events such as Battle of the Bands, WAHS Got Talent, and the Spring Musical. Jahoda-Wassung, who has worked on sound tech for five plays at Western, has already started planning a 'sound tech squad' for musicals to help club members apply their skills and to make shows run more smoothly. 
Multicultural Club
Diana Kim, founder of the Multicultural Club, wants to hit the ground running this year. She has already started working on her goal to, "expand cultural literacy in Western, because god knows we need it." 
Last year, the club sponsored speakers from groups such as the Women's Initiative, the Daughters of Zion, and the National Coalition of 100 Black Women of Charlottesville. Kim is planning to have many of these speakers back, as well as visitors such as Hannah Koizumi of the Mixed Race Student Coalition at UVA. Her plans for this year include collaborating with more community organizations that send speakers and possibly taking a field trip to the Daughters of Zion cemetery. 
C2OA Club
C2OA Club is the second rendition of Cole Ruoto's Cool To One Another Club. The idea for the club came about two years ago with Ruoto's posters of his face and the phrase, 'Be cool to one another.' Ruoto explained, "when I plastered my face around the school the first time, it was fun but confusing. So, I said, why don't I just make a club about that and then I can do whatever I want… and people won't have to try to figure out what the goal is, because I'll just put in the goal, which is to, you know, spread positivity."
Ruoto now runs the club with Mark Dindo, Ben Snyder, and Sebastian Provencio. The leaders are planning many events for this year, including some that they held last year. Ruoto explained, "last year we did a beyblade tournament- we're doing a second one this year, that's gonna be soon- and then we also did wholesome karaoke, which was a little more organized and more traditional than kinda karaoke."
Finally, Ruoto added, "If you have three clubs and somebody takes one club, how many clubs do you have left? Two. Doesn't that say a lot?"
About the Writer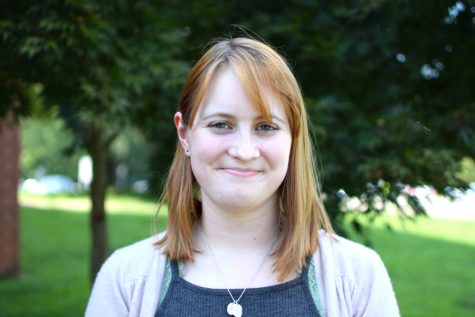 Rosie Dougherty-Herrmann, A&E Editor
"'Hey I heard you were a quiet one, oooh' -Flo Rida" -Julianne / Flo Rida