Charlottesville Participates in Global Climate Walkout
12-year-old Gudrun Campbell, a student at Walker Upper Elementary School and co-founder of the Cville Youth Climate Strike Network, led a Climate Strike on September 21st. Participants marched to the Freedom Wall and crowded together tightly to hear Campbell speak, some even climbing on top of structures to better view the event. Campbell has led two previous marches for climate action, both targeted towards youth in the Charlottesville area. The strike held on the same day as the United Nations Youth Climate Summit brought out over 300 people of all ages to the Downtown Mall.
This strike correlates with the larger global series of strikes, pioneered in part by 16-year-old Swedish activist, Greta Thunberg. Thunberg has been nominated for a Nobel Peace Prize for her activism and dedication to environmental preservation and policy. 
"
"We are the last generation that has the power to halt the climate crisis. Let's do it together before it's too late."
— Anna Eldridge
The strike concluded with the youth lying motionless on the sidewalk in front of the Sprint Pavilion, many brandishing colorful posters advocating for immediate change in government policy and individual behavior. This "die-in" was meant to represent the anticipated death of the planet and future generations as a result of inaction.  
The protest centered in on the Atlantic Coast and Mountain Valley pipelines, specifically relating to Union Hill. Union Hill, a predominantly African-American community in Richmond, Virginia, was founded by freedmen after the Emancipation Proclamation. Many descendants of the original freedman still reside there today. Residents of Union Hill are fighting against the proposed construction of a compressor station, central to the function of the Atlantic Coast Pipeline built by Dominion Energy. 
Dominion is attempting to institute eminent domain in order to complete the construction project, directly affecting the residents of Union Hill and the surrounding areas. Protestors at the strike urged activists to band together against the Atlantic Coast Pipeline and support organizations fighting against companies in support of the Union Hill compressor station. 
ESA students Anna Eldridge, Syndey Dutton, and Sydney Sherman organized a walkout for climate on September 24th, gathering students together outside the front office. Students created posters, drew on the school sidewalks with chalk, and participated in call-and-response phrases regarding climate activism. Keynote speaker, Anna Eldrige, addressed her peers during the walkout.
"For too long, politicians and people in power have gotten away with avoiding the issue of the climate and ecological crisis. Inaction and ignorance no longer viable," Eldridge said. "We are the last generation that has the power to halt the climate crisis. Let's do it together before it's too late."
About the Writer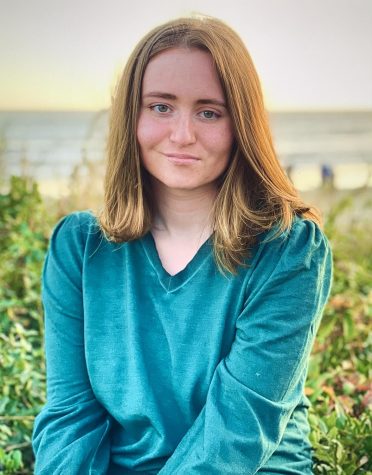 Abigail Connelly, Editor-in-Chief
Abigail Connelly is a senior and is in her fourth year of Journalism. She is co-editor-in-chief. When she's not drowning in homework, she's out on...