RIP AAF: Gone and Probably Forgotten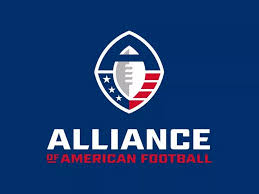 Johnny wakes up on the morning of Saturday, April 3, 2019, eager for entertainment.  He goes on his computer to check the highlights of last nights game, but he pauses right before he clicks play on the video.  A headline has caught his eye, "The AAF is Permanently Suspending all Operations." Johnny thinks to himself, "Oh yeah. I forgot about the AAF.  Bummer, I guess."
Unfortunately for the AAF, Johnny's reaction mirrored pretty much all sports fans.  After having an explosive week 1 that caused lots of excitement amongst football fans, myself included, the AAF gradually lost momentum and popularity each week.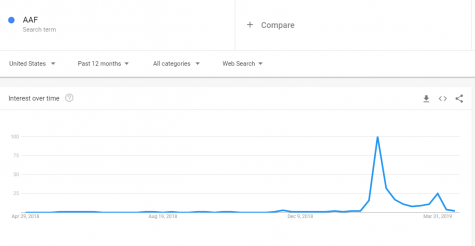 AAF Google trends:  Searches peak at opening week, but fall steadily until early April, which is when reports came the league was shutting down.
Frankly, this was to be expected and it's not why the league folded.  Unfortunately, it seems like the league was facing an uphill battle from the beginning.  Even after a successful week one, the league was short on money, and several players did not receive pay during week 2 due to "errors in the system."  But a few days later Tom Dundon, a successful businessman and owner of the NHL team the Carolina Hurricanes, pledged 250 million dollars to the league, essentially becoming the new owner of the league.  But the man who was deemed the savior of the league, was the one who killed it. Surprising everyone, just six weeks after investing Dundon announced that the AAF would be shutting down permanently. No one really knows why Dundon did this.  Bill Polian, the league's co-founder said, "I am extremely disappointed to learn Tom Dundon has decided to suspend all football operations of the Alliance of American Football…The momentum generated by our players, coaches, and football staff had us well positioned for future success. Regrettably, we will not have that opportunity."  It certainly wasn't good for Dundon who lost 7o million dollars upfront after ending the league.
The tragedy of the situation is that the AAF shouldn't have failed.  It had revolutionary new rules and was trying to be a counterpart to the NFL, not a competitor, which is what has killed so many leagues in the past.  Ultimately the league died due to the incompetence of its owners, and is an example of a great idea executed poorly by its creators.