County Council Seeks to Improve Schools
Hang on for a minute...we're trying to find some more stories you might like.
Once a month, the eight students on the County Student Advisory Council- two freshmen, two sophomores, one junior, and three seniors- leave during their first period of the day. They spend a few hours talking about school issues and plans with their peers from Monticello and Albemarle and return to Western at lunch time. These students are part of an advisory group who encourage ACPS to adopt policies that will improve the school system. They also bring awareness to certain initiatives at their schools and help pursue them.
This year, the council is focusing on the environment. The goal this year is to make all of the schools greener. Ironically, even though Western hosts an impressive Environmental Studies Academy complex, it is the only high school in the county that doesn't recycle. None of the schools compost. The council is working on changing that. Additionally, they're working on some programs to educate students about the environment, aiming to bring focus to the importance of environmental awareness in ACPS schools.
"We're creating an environmental curriculum for freshman seminar, and at the middle school and elementary school level, so that kids could kind of get concerned about the environment and want to take action for it," said Noa Kipnis, a senior and executive member of the council.
In previous years, council members worked with many issues at once, rather than focusing on a central concern."We were talking about accessibility in schools, the possibility of getting athletes out of gym class, how that works," sophomore Karen Raphael said. "This year, we're trying to focus more on one specific issue."
The members of the County Council have created a sizable amount of change. A few years ago, the council created a new homework policy which the county eventually adopted. A group of students got a mental health-related state law passed that has to do with putting Student Assistance Program Coordinators (SAPs) in schools. Last year, they worked on accessibility, getting accessibility measures like automatic door openers and elevators checked to make sure they were working. Fulfilling their position as an advisory board, they've discussed bullying in schools and the one to one laptop initiative.
Kipnis said that she thought the new format would help the council get more done. "What we found was that while we talked about a lot of issues, and we had school board members come and listen and take into consideration what we were saying, we weren't really creating a lot of change, because you can't solve an entire issue in one two-hour meeting.
Being part of the County Council requires members to be very involved with their schools. "I would say that the commitment is pretty big," Kipnis said, "especially if you're what's called an executive member, which is what I am. There are two executive members per school. The ones from Western are me and Caroline McGahren. And basically, we organize County Council at the school level. So we plan out when meetings are, we are in charge of facilitating discussions, and we just also make sure that, everything in the club is running smoothly. And we sometimes have additional meetings for that." All of the members are expected to do more than just attend meetings, and it can be a lot of work.
"On a on an average month, we have a monthly meeting at the county office building, which is a county-wide meeting. Then we also do work independently, especially this year, like for the environment, we all kind of get homework, if you will. So we have to meet with admin and work with ESA to make sure that we're implementing all these programs. County Council is a lot of work because you have to really advocate for yourself. If no one pushes for environmental stuff, then it just won't happen."Students on County Council are excited to be there.
"I wanted to be on County Council because I know it's a group of people who are very motivated and who actually want to make a change in the schools. I would say that I am very passionate about making schools a better place and stuff. So that's part of I just wanted to be on an organization where I would be able to get things done for schools," freshman Caitlin Boyd said. "My favorite part has been talking with other schools," said the other freshman member, Michal Kipnis, "because I think we're so isolated at Western that we don't know what exactly is happening at Monticello or Albemarle. So having a couple of representatives from album on one and tell and discussing with them some issues that we all want to change."
Unlike the other schools, Western's County Council has a more formal application process. It depends on the year, but applicants usually write an essay and answer a few questions. The current council members will then look at the answers of applicants and a select few are chosen for the group. In past years, only freshmen have been allowed to apply, but this year, applications were opened up to sophomores and juniors as well. "I think that a lot of people hear about County Council in their freshman year, and then they they think that it's something really cool. I think that we should give them an opportunity to also be a part of it," Noa Kipnis said.
"I love it a lot," Kipnis added, "and if people that are reading this are interested in applying next year, they definitely should. It's a lot of work, but it's also really cool, and I think it teaches you a lot about public speaking and getting your voice out there."

About the Writer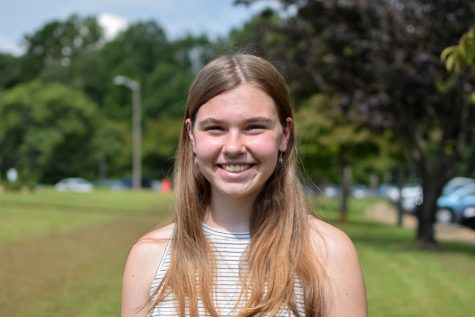 Kathryn Steenburgh, Staff Writer
Kathryn Steenburgh is a junior and is in her third year of journalism. In her free time, she enjoys hanging out with her dogs, playing the piano, and listening...