Daily Progress Holiday Hoops Preview
Walker Martin, Brian O'Dea
December 29, 2018
Hang on for a minute...we're trying to find some more stories you might like.
The boys basketball team's season is just underway, but they have already established one of their main goals for the season: win the Daily Progress Holiday Hoops Classic. The Holiday Hoops Classic is a high school basketball tournament happening over winter break, (December 27-29) that includes high schools from different areas of Virginia.  The Western boys have had some success in the tournament in the past, as they finished 3rd place last year and won the tournament in 2010.
Head Coach, Darren Maynard, said, "The competition's really good year in and year out, and we draw some really good teams from outside the area. And there's also really good teams from inside of the area, like Albemarle and Charlottesville."
As of right now, the Warriors are 2-3, and according to Maynard, they are trying to build chemistry within the team and give new players experience."So these early season games, we're trying to find the right chemistry. And we have some new guys this year, some young guys, so we're trying to piece all that together right now and get some experience," said Coach Maynard.
Sophomore, and newcomer on the varsity squad, Andrew Shifflett spoke on the chemistry of the team, "All the players encourage each other after we make mistakes.  There is never a negative reaction." The squad has had no problem gelling on and off the court behind strong leadership and mutual support for each other. It is only a matter of time until it translates to on court success for the improving team, but they will have to prove it while playing in difficult environments against quality competition.
Even though they have some time before they tip-off in the tournament, the team is excited for the chance to play in it. "I'm excited for the first time I'll be in the tournament, and I think it'll be a good experience and a lot of fun," says Shifflett. The competition will help the team gain valuable experience that can be used for the district, regional, and hopefully the state tournament. The season has just begun, and there is still plenty of time for the team to mesh and improve so that they can achieve all their goals.
About the Contributors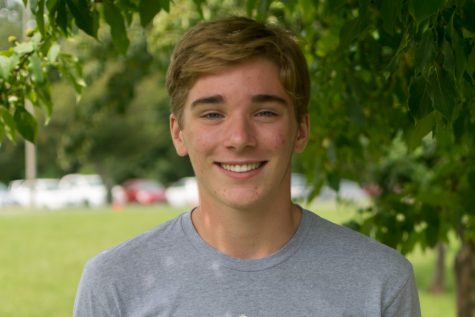 August Lamb, Editor-in-Chief
August is a senior at Western and a fourth year Journalism student. For his last hurrah in C107, he dons the coveted Editor-in-Chief cap along with Mia...