Accomplished Artist Makes Her Mark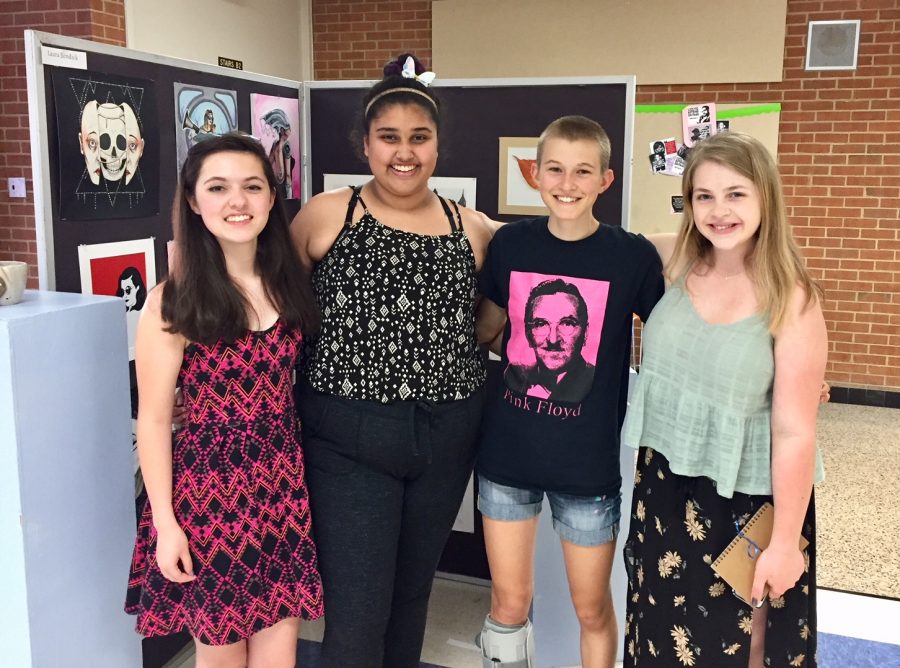 Senior Gayathri Prakash is known for her style and bubbly personality. She is a talented artist and was featured in the Senior Art Show. Prakash also is interested in fashion, animals, and volunteering to help the community. Before she gets her diploma, the Western Hemisphere asked some questions to find out more about her experiences:
When did you start doing art?
When I was born. That sounds really weird, but my mom really cultivated a love for art in all of her kids and would force us to finger paint when we were angry. That's just how she was.
Have you changed as an artist over time? How?
I was really obsessed with owls when I was younger, so I used to paint a lot of owls with really huge eyes and all this really cutesy stuff… I tried to become more realistic as time has gone by, but now I'm trying to be more painterly. I think it's really amazing that you can draw photorealistically, but I prefer something more aesthetically pleasing.
So you went Saint Anne's for a year. What was that like?
The kids are really nice and some of the teachers are extremely helpful, and also there are dogs everywhere–there are like seven dogs on campus–which was really nice. But there are a lot of rules: you have to go to all these field trips and chapel and do extra volunteer work that doesn't interest me…I do a lot of volunteer work with kids. I dress kind of wildly sometimes, and the uniform at STAB really stifled me. I used to wear crazy flower crowns every day just because I wanted to be different. I didn't want to be like everyone else. It just bothered me. I feel like individuality is valued a lot more here. It was scary coming back because people knew me here but didn't know me, my grade had already graduated. I had to make friends but people kept asking me why I was a year behind. It was kind of scary but I soon became friends with a bunch of really good people.
What was it like making your own prom dress? Was it difficult? Would you do it again?
It's a struggle every year just because fabric is expensive, paint is expensive, everything's always expensive. This year it was really nice because I already had the fabric — it was like an antique from my grandma. And basically what I had to do was I just had to hand sew the whole thing cause I thought I wasn't allowed to cut up the fabric. That was a struggle, but other than that it's a lot of fun. You always make a statement after making your prom dress. It was hard because of size, and also the fact that I had to hand sew it on the mannequin instead of using any machine stitching was really hard. Also the color was really rough for me because people kept being like, "Orange? That's ugly!", and I was like, "Please, I like bright colors."
Would you do it again?
Definitely. I've made a few dresses in the past few weeks. I've made one that's inspired by jellyfish that lights up. I made a few shirts and made a scarf, which wasn't that hard, but it was fun to make the scarf. I'd definitely make a dress again, especially a formal dress. When I go to college I'm guessing that there are going to be formals. It's a conversation starter, definitely.
What other clothes have you made?
I've made shirts and pants and skirts. I like making skirts a lot. I've also made my Halloween costume every year. I was a walrus this year. I made a dress last year out of paper that had a walrus on it. I make a lot of Halloween costumes for my sisters as well. Like my sister this year was Moana, and the other sister was Lilo from "Lilo and Stitch." I just like making costumes, it's fun. I might want to go into costume technician stuff in the future.
How long have you been doing that?
Just recently. I started last year. There's definitely a learning curve, I never got any professional training with sewing, so I just taught myself from YouTube videos. I'm learning new things every day and I started a year ago, and it's just been a whirlwind of fabric basically because I go through fabric so quickly and I make things so often… It's an expensive but fun hobby.
Have you also been volunteering?
I volunteer at an elementary school, Greer Elementary, and I've been volunteering there for a while. I volunteered for a full year during my gap year. Every day I went and taught art and then taught a first grade class. They were the best kids ever. I love them so much. I do volunteering with Families In Action, which is a bunch of families that want to make a difference in their community. I also do art projects around the area. I go and help paint murals and stuff.
Tell us about your animals!
I have several animals. I love them! I have two birds. And even though the two birds are different species, they're completely friendly with each other. And I have a dog named Poppy, she's the light of my life. She's a diva. And then we have a cat. He's a very talkative boy. He was found on the street.
About the Contributor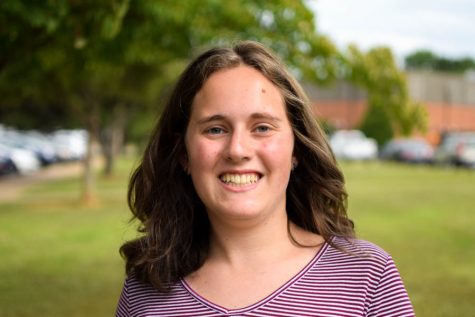 Jessica Klees, Editor-in-Chief
Jessica Klees  still hasn't fully grasped that she's a senior at WAHS. This is her fourth year in journalism and she is an Editor-in-Chief this year,...