Women's Studies Offers Students a New Perspective
Hang on for a minute...we're trying to find some more stories you might like.
A new addition to the multitude of courses offered at WAHS is a class that some students might question, but others feel is very necessary: Women's Studies.
Taught by English teacher Monica Laux, Women's Studies explores historical and current issues surrounding gender, in the United States and around the world.
Laux was inspired to start the class when she found that there was interest in the topic. "There was a group of young women that were really interested in women's issues and started a feminism club," she explained. The students in the club "were really getting together a lot to kind of talk about… basically women's studies, but without the historical context."
"And [women's studies] is something that I personally am very interested in, so I felt like it would be fun for me and some students interested in women's studies to get together and actually have a full class about it," Laux said.
The class is structured by quarter. The first quarter focuses on American women in history, the second on global women's issues, the third on feminism in modern America, and the fourth on problems that affect the local school system. In their final project, students will be writing proposals about something they wish to change in Albemarle County, which they will present to community members.
Senior Darcy Spicer chose to take Women's Studies because "Ms. Laux is teaching it, first of all, and I know she respects my opinions and she respects everyone's opinions, and she's an open-minded person."
"And also," she added, "because, initially, I wasn't interested in anything like women's studies–it's just not my thing–but I wanted to get a perspective for all people's feelings and beliefs, to either strengthen my own or just to broaden out and see what interests me."
Junior Thomas Jackson enjoyed the idea of being in the "guinea pig class"–the first students to take Women's Studies. As a boy, he felt that he should become educated about women's issues, and the class was a perfect way to do that. "I was really interested in having a class where I can talk about opinions that I have and gain lots of knowledge on the topic," he said.
Both students would like more boys to participate in Women's Studies, especially Jackson. As the only male in the class, he feels like he has a different perspective than other students. He also said that "to be a guy in a women's studies class, you kind of have to prove in a way that you are open-minded to women's opinions and that you are able to respectfully have a debate, even though I agree with most of the people in the class."
One of Spicer's favorite parts of the class is an activity called Woman of the Week. Every Monday, the class will learn about a new woman that they normally wouldn't hear about in other classes. "Most of the women we talk about aren't mainstream," Spicer said. The first few were taught by Laux, but since then, students have been researching these women and teaching their peers.
Spicer and Jackson both highly recommend the class. "It's not as women-central as it sounds, even though it is a women's studies class," Spicer said, "but it's really fun and I think everybody should at least consider it." Jackson added, however, that "you'd have to have a very dynamic group for the class to work."
"It's definitely met my expectations," Laux said about the group of students in the class. "I think the level of energy has surprised me. It surprised me how fast, like even on the first day of school, the class already felt like a family."

About the Contributor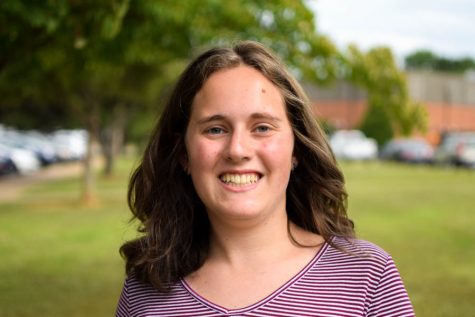 Jessica Klees, Editor-in-Chief