Superintendent Moran Announces Retirement
Current Deputy Super. Matt Haas to take over job
Hang on for a minute...we're trying to find some more stories you might like.
Dr. Pamela Moran, superintendent of Albemarle County Public Schools since 2006, has announced her decision to retire at the conclusion of this school year. After 13 years at the helm of the county schools, Moran will be handing the reins to current Assistant Superintendent, Dr. Matthew Haas. Of all 19 superintendents in ACPS' 148 year history, Moran is the second longest-serving, behind Paul H. Cale, who served for 22 years during the integration era.
School board chair Dr. Kate Acuff commented on Moran's tenure, "The true test of leadership is the ability to make the lives of those around you much better. Dr. Moran did that with great distinction for more than 35 years throughout her career in education. The impact she has had in her role as superintendent has been beyond extraordinary. She has made educators more effective and visionary; [and] opened up closed doors of ambition for thousands upon thousands of students."
Moran was Virginia's 2016 Superintendent of the Year, and was a top five finalist for the national award.
Under Moran's leadership, the school district was recognized as one of the top performing in Virginia, achieved an on-time graduation rate of 95%, graduated 7 out of every 10 students with an Advanced Diploma, and was in Virginia's top three districts with the highest average math and writing scores on the SAT.
"The not-too-subtle secret about Dr. Moran's remarkable record of achievement is that, even as a world-class administrator, she never gave up the joy of teaching," Acuff said.
Moran began her career as a science teacher in the county, but moved up the chain of command–first to Central Science Coordinator, then to principal of Stony Point Elementary School, Director of Instruction, Assistant Superintendent, and then to her current position as superintendent. She also served as an adjunct instructor at UVA's Curry School of Education.
Western Principal Darah Bonham commented that Moran had built a division that "puts kids first," and that she had taken bold and fruitful steps during her career. He said of Moran's successor, Dr. Matt Haas, "He has obviously learned from one of the best, and he gets the chance to take on some of the challenges that she has, and the initiatives, but also put his own fingerprint on those things as he sees best for the county." Bonham said that he looks forward to Haas' tenure and his continuing to put students first.
Haas has worked for the county since 2004, when he was appointed principal of Albemarle High School. He was transferred to the school division's central office in 2009 and appointed Assistant Superintendent in 2015. He will take over Moran's position of superintendent on July 1, 2018.
Click here to learn more about Dr. Moran's achievements.

About the Writer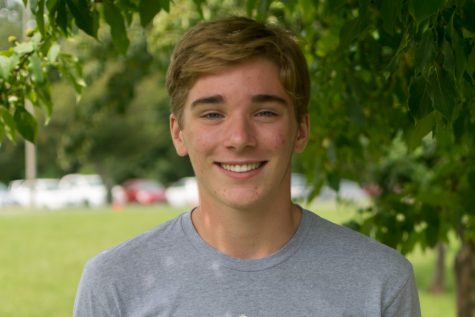 August Lamb, Editor-in-Chief
August is a senior at Western and a fourth year Journalism student. For his last hurrah in C107, he dons the coveted Editor-in-Chief cap along with Mia...