Paffles: You've Gotta Try This
Iron Paffles and Coffee opened April 18th in Charlottesville. You may be asking yourself, "What's a paffle?" A paffle is puff pastry that is baked on a waffle iron. Iron is located on Water Street off of the downtown mall near Hot Yoga and Mono Loco.
With many savory and sweet options, there is something for everyone. In addition, there are many vegan and gluten free options as well. When I went to Iron, I had a hard time deciding what to get. The five breakfast options and six lunch options all sounded extremely enticing.
In the end, I decided on the Rise 'N' Iron which was a tasty paffle with sweet blueberries, fresh cream, and local hickory syrup. As I've always been more of a pancake person, I was initially skeptical that it would taste like a waffle with fillings, which didn't sound like anything special to me. However, when I bit into it I was immediately overcome with the crispiness and airiness of the paffle as well as the sweet flavors inside.
The paffle tastes very different from a waffle as the consistency is a little bit like a funnel cake mixed with a croissant but a thousand times more airy. The picture only shows half the paffle but in actuality, the size of the paffle is perfect, leaving you just the right amount of full and satisfied. After such a memorable experience, I already can't wait to return to Iron. I've got my eye on the Iron Champ which consists of a paffle filled with southern fried organic chicken, creamy cheese grits, and arugula.
They also offer coffee from Shenandoah Joe's and a number of different teas and drinks. The only downsides to this tasty place are the difficult parking and the cost, with a majority of the paffles coming in at around $7.
If you are interested in seeing more about Iron and their menu choices, check them out on Instagram or Facebook or look on their website. They are open Monday through Thursday from 8 AM to 4 PM, Friday from 8 AM to 8 PM, and on Saturday from 10 AM to 8 PM.  For people still looking for something to fill the void that Spudnuts left of unique, tasty food in Charlottesville, Iron is definitely worth a try for you. https://www.iron-made.com/
About the Writer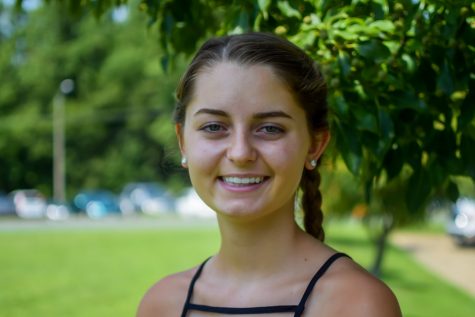 Madeline Hamer, Staff Writer
Madeline Hamer is a senior and is entering her second year in Journ. After a one year retirement, she is returning, ready to bless the world of journalism...