Words With…Teachers? Trivia Team Spells It Out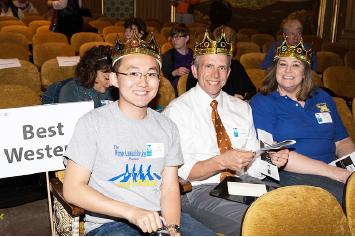 On April 27th, three Western teachers will become students and get tested with trivia in the annual Wordplay Competition. Trivia makes participants acknowledge the information and education they have; thus, this contest is a fun and meaningful way to fundraise for the education of others.
It is done through Literacy Volunteers Charlottesville/Albemarle. According to Board Member Renee Ferguson, "Proceeds from this event go to supporting approximately 350 adult students who receive free tutoring to improve their reading, writing and English speaking skills so that they can get better jobs and help their children in school."
The Western Albemarle team consists of Lani Hoza, Dan Bledsoe, and Jill Williams. The questions they have to answer follow the theme of "Time." The previous year's theme was "Law." "They showed movie clips that included lawyers or court room scenes. There is also a lot of 'word stuff' obviously, so there were vocabulary terms related to the courtroom, criminal defense, and prosecution," explained Mrs. Hosa.
This team is no stranger to trivia contests. Last year, the trio competed in Wordplay and placed 5th out of 35 teams who were competing. They are also a part of a group that competes weekly at local restaurants. Bledsoe has been doing trivia since his eighth grade history class, and has always enjoyed the excitement of figuring out the answers and seeing how aware he is of his surroundings.
At their most recent tournament, there were a few questions that each member found very difficult. To Bledsoe, the most difficult question presented was: "What was the given name of Lupin and Tonks' son [from Harry Potter]?"
"My favorite ridiculous question that I don't think any human alive would know was, 'What movie won the Second Most Awards at the 2016 MTV Awards?'" added Ms. Hoza.
Meanwhile, Mrs. Williams said, "There was one long, complicated question involving prime numbers, and I didn't even want to try."
Every member on the team has certain types of questions that they like to try to answer. Mrs. Williams prefers history and geography questions, while Mr. Bledsoe likes either history or sports.
Ms. Hoza explained her own strengths lie in movies and TV shows (from the right era), and a very narrow window of music before 1985. "I like some of the science ones depending on how picky they are getting, and I don't even have to bother to know history because my teammates are especially well versed in that."
According to Renee Ferguson, the audience also plays a great role in the Wordplay event, from voting on best costume and team name, to playing along with the same answer sheets as the teams. Everyone in the room is involved in some way, and they all learn more about how their proceeds benefit the education of adults in the area.
The competition will take place at the Paramount on April 27th.