Senior's Prayers are Answered
Tom Lengel Fulfulls Dream of Seeing Pope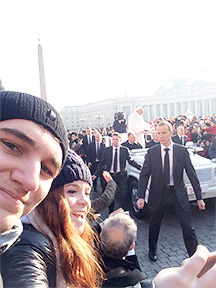 Over winter break, senior Tom Lengel traveled  to Rome with his European-born mother for an unforgettable experience. One of the highlights of their trip was a visit to the Vatican City and experience the Papal Audience.
The Papal Audience is usually held in St. Peter's Square for about 1-2 hours in the morning around ten. The Pope addresses thousands of people in the audience, in several different languages. Lengel has taken Latin all four years at Western, and was glad to be able to use the language skills he has acquired.
"We woke up at seven in the morning—it was freezing cold, but we waited in line and had to get through security. He [the Pope] came around ten, and we got to hear him talk. And after that we went into the actual St. Peter's Basilica and just had a great time," said Lengel.
Along with exploring Rome, Lengel took a day trip to Assisi, Italy, which he called another highlight of the trip. His travels to Rome and Assisi helped to cultivate in him an appreciation for the Italian culture. He also enjoyed visiting the Vatican City and absorbing the atmosphere of the Catholic Church.
Although Lengel is unsure of what he wants to do in the future, he says that traveling is important to him, and he will want to continue to travel in college. With his journey to Rome finished, Lengel will remember this trip for a lifetime and search for new adventures to come.