Warriors Bring Home the Win at Regional Science Fair
Students blow away the competition
Several Western students came home victorious from the Virginia Piedmont Regional Science Fair. On March 12, Western students were top contenders and got to share their vast knowledge of science with other students in the region. From Western, Lillian Xu, Seamore Zhu and Lexy Payne all placed first in their sections of the fair, as well as many other second place, third place and honorable mention wins from Western students.
At the science fair, Caitlin Dutta competed with a project on cellular and molecular biology that went on to win the overall title at the science fair. For her project, Caitlin made muscle by manipulating RNAs.
"There are already RNA in your muscles that either help make or prevent the creation of muscle," she said. In particular, Caitlin worked with an RNA called tor2953 that helped in the creation of her project. For three years, Caitlin has worked in a UVA lab to figure out what this particular RNA does.
In May, she will be traveling to Los Angeles to compete in an international science fair. This all-expense paid trip will give Caitlin the opportunity to show off her work with others that share the same interest as her.
Lexy Payne, who earned first place in her division, created a mechanism to float behind a boat that derived power from wave motion using a hydraulic system. Lexy interned at the Northrop Grumman boat building company and was assigned a project where she decided to make her own mechanism, which she began working on in September.
Since middle school, Lillian Xu has been interested in science and working in labs at UVA and it has become an enjoyable hobby that she works at almost every weekend with a mentor. Her mentor, UVA's Dr. Tung, is a professor of histology, the study of the microscopic structure of tissues. Lillian discovered a gene that causes heart disease, which was the subject of her project.
Seamore Zhu, another first place winner for Western, did a project on the design and experimentation of the particle and nasal spirometer. The spirometer is a device that tests for pulmonary diseases like COPD and asthma. Seamore's interest in this topic was sparked by a close friend of his, "I had a friend in cross country who's in Washington now, Devin Morris, and he had asthma."
While interning at UVA, Seamore discovered a MEMS flow sensor, which tests for airflow. He combined this mechanism with asthma to test for pulmonary disease. After working on this project for two years, Seamore presented it at the Virginia Piedmont Regional Science Fair, placing first in his division.
All of the first place winners competed at the state science fair at VMI on March 28 and 29. None of the Western students won any first place prizes, but in May, Caitlin will get the opportunity to compete in Los Angeles.
Caitlin and Seamore both happily recommend,  "Everyone should do science!"
About the Contributors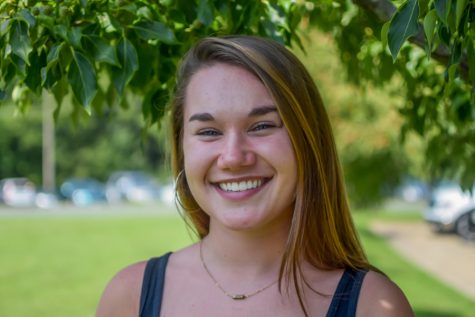 Abby Lohr, Editor-In-Chief
Abby is a senior at Western, entering her fourth year on the journalism team. She's excited to share the responsibilities of Editor-in-Chief with Timothy...
Valerie Hajek, Staff Writer
Valerie Hajek is a sophomore entering her second year of journalism. In her free time, Valerie likes to play sports, hang out with friends and family,...