Life on Open Waters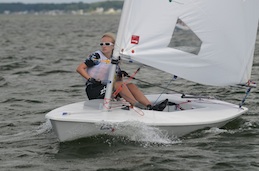 As  a native to North Carolina, Nina Willms is no stranger to the sailing and beach life culture. "I've gone to Camp Seafarer for Girls since I was very young, and that's where I started sailing," Willms said.
The thrill of being out on the open water, and having to constantly stay alert but enjoying the sun and breeze are what attracted Willms to the sport. But the people that she has met through the Fishing Bay Yacht Club, off the Chesapeake Bay in Deltaville, VA, have formed a community in which she has made new friends and has been inspired to take her sailing commitment to the next level.
During the past summer of 2013, Nina Willms became a member of the Yacht Club and joined the junior sailing team. "I have met a lot of people at the Yacht Club … lots of older people who are more experienced sailors and I've made lots of friends with my sailing team there."
Her coach is Gabriel Moran from Ecuador, also known as "Tank." An accomplished sailor himself, he takes the sport very seriously and as any good coach does, pushes Willms and her teammates to their breaking points. A single practice for Willms during the summer is a whole day event. Waking up at a criminal hour, Willms' parents drive her and her boat out to the Yacht Club where practice starts at 8 a.m. Willms and her teammates stretch and lift weights before Tank allows them to get into their boats. The rest of the morning is dedicated to practice drills where Tank yells in his thick accent to keep the team members in line. Drills are only interrupted for lunch, which the team usually pack and eat in their boats. All of this preparation is necessary for them to be competitive in regattas, which usually take place during the summer and spring.
Sailing takes a surprisingly incredible amount of focus and strategy to get your boat to move fast enough to reach the marks in time and to steer while being conscientious of wind shifts and currents. And if you aren't paying attention you can make the biggest mistake of all, you can hit another person's boat.
"One time I wasn't paying attention during a race and hit another boat when they had right of way and he freaked out at me, but I just did my penalty and everything was OK."
Concerning the disadvantage that living so far away from the coast faces for her, Willms said that getting to competitions is hard sometimes. While the farthest Willms' has ever traveled for a race was to Baltimore, Willms' sailing team during the past summer traveled to Canada for a race while Willms was at Seafarer. Even though it can be disheartening sometimes to live at a distance and to have come into the sport so late, Willms' teammates still have influenced her to continue on. The competition  isn't the only reason  Willms dedicates herself to sailing, when talking about goals for the future. She said, "It would be really cool to sail around the world."
No matter what other interests Nina Willms acquires, she promises to continue to ride atop the waves.