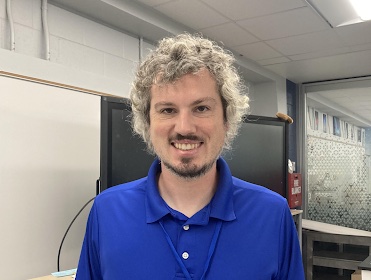 Chris Asquith – Science
 Mr. Asquith is one of our several new teachers to Western Albemarle. His classroom is on the first floor of the B-wing and he teaches biology and AP biology.
Q: What made you decide to teach biology?
A:  Ever since I was a kid, I loved exploring nature and discovering plants or animals.  I love to learn things and pass them on.
Is this your first year of teaching or have you had other experiences?
I have taught at both the high school and college level for a long time, I most recently taught at Orange County High School, and still help some students at community colleges.
What do you like to do outside of school?
I like to explore nature, to hike, looking at leaves, and animals.
What's been your first impression of teaching at Western?
I really enjoy the environment, the teachers and staff have been very welcoming and I look forward to teaching here.
Why do you like being a teacher/ why did you become one?
I love to learn things and pass on information. I became a teacher because after college I didn't know if I wanted to go into research or teaching so I tried them both out, during that time I discovered that no matter how much I loved exploring rainforests, I liked teaching even more.
You said you explored rainforests? What rainforests have you explored?
I spent three months in Panama studying red-eyed tree frogs while a graduate student at VCU. The rainforest that I lived in was Soberania National Park near Gamboa, Panama.
Donate to The Western Hemisphere