Denny Barberio: A Look into the Life of That One Really Good Substitute
Denny Barberio might be the most multi-faceted person I've ever met. He is a musician. He is a teacher. He is a producer. He is a theatre kid. He is a sound expert. He is a grandfather. He is a gardener. He is a chicken owner. 
We're going to skip all the typical biography found in a profile because Mr. Denny's career origins are where things really get interesting. Unlike many at our school, Mr. Denny started out not as a teacher, but as a performer. At age eight, in New York, he began to take accordion lessons with his older brother, that first accordion lesson of all things "was the start of my music career." From there, Mr. Denny would go on to start a band called the Ram-Rods, with which he would later play at the 1964-1965 New York Worlds Fair. Once his family moved to South Florida, he joined another band, the Immortals, which won Battle of the Bands state-wide, making his band the #1 band in all of Florida, and competed nationally in Boston. As one would expect, this success opened a plethora of opportunities for the group, so they went on to become a house band at a "rock and roll arena" in Fort Lauderdale. 
Now, as someone my age reading this, I doubt you will recognize all the artists and bands Mr. Denny has worked with, but know this- Mr. Denny's career in the music industry was prolific. As a pianist, organist, guitarist, and vocalist he played with Sonny and Cher, Mitch Ryder and the Detroit Wheels, the Rascals, and the Who. During his time with a sound company, Mr. Denny also did tech for such illustrious groups as the Beach Boys, The Association, Dion, and Miles Davis. After a brief stint on Bourbon Street, where he developed a more unique style from learning "Louisiana style from  Louisiana musicians," Mr. Denny took the show on the road. 
He played throughout the United States, accompanying Jerry Lee Lewis, Jay and the Americans, Little Anthony and the Imperials, the Kingston Trio, the New Christy Minstrels, Buddy Greco, Anna Maria Alberghetti, and comedian Phyliss Diller. 
Finally, in 1974, Mr. Denny recorded his first album, The Best Performance of My Life. Like me, I know you all will be devastated to find that in all my research I could not find any digital records of his music- that the internet is missing the tune of Denny Barberio. However, for those devoted fans, the vinyl can be bought on eBay.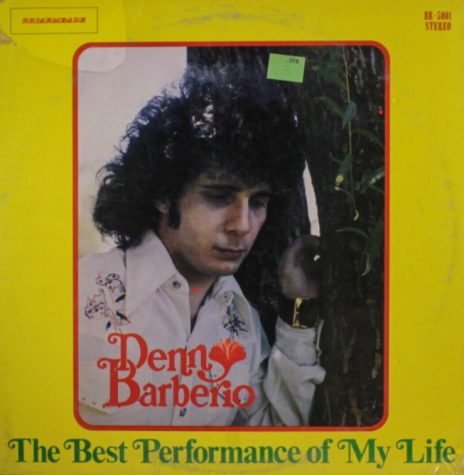 It was at this point that Mr. Denny decided to finish his college education getting his associate's, bachelor's, and master's degrees, and placing less emphasis on his music career and more on teaching. Again, unlike most teachers, Mr. Denny did not begin teaching in an elementary, middle, or high school, but instead in the Louisiana prison system, to help incarcerated teenagers get out of juvenile homes and avoid going to a juvenile prison. It was only in the 90s that Mr. Denny began teaching in public schools as a special education teacher, soon moving to Virginia to teach here. As if music and teaching weren't enough of a career, it was at this point that Mr. Denny began producing TV shows. 
One common theme that you will see throughout this profile is that Mr. Denny applies everything he has learned prior to teaching to everything he teaches, and so after making shows in New York and at Disneyland, Mr. Denny moved back to Albemarle County where he taught at Walton and Monticello,  where he made a twenty-seven episode show called "Heart and SOL." Mr. Denny then returned to Louisiana to teach, but when a friend told him they needed a teacher at Western, Mr. Denny, always having wanted to come to Western, did not hesitate to say yes because "Western is like coming home."
Even though he is still technically considered retired, Mr. Denny still comes in every day as a long-term substitute, saying "maybe it's the fact that I don't have to be here that makes it so enjoyable… I get up every day and I am excited to be here…and I think I'm lucky to be here."
Whew. That was a lot about Mr. Denny's career background, but I'm glad you're still reading because Mr. Denny does not stop there. 
Personally, I know Mr. Denny as the teacher that has close and caring connections with a wide range of students. When I asked him why he has the ability to make such strong bonds with students, he told me that his values in terms of the results of school are entirely different because he is part of the "grandpa world." Instead of valuing good behavior and grades, "that everything has to be perfect," like any parent, the only thing he cares about is that they're happy, adding that "I'll drop what I'm doing to see them happy." In an age that is complex and overwhelming, especially for young people, Mr. Denny feels that everybody needs someone to rely on. 
As for the "how" in connecting with students, Mr. Denny looks for a special connection that both himself and a specific student relate to, like, for example, bringing pounds of alligator meat to a student who also has family in Louisiana. At Western especially, Mr. Denny notes that he has experienced an overarching culture of mutual respect that allows these relationships to blossom, saying "teachers feel comfortable around students and students feel comfortable around teachers because we're all in this together and we're all going to get through this together." 
Beyond subbing for just about every class at Western, Mr. Denny also spearheads any sound tech needs, whether it be for the Mamma Mia, the band concert, or Mr. Granger's Fun Friday sitcoms. Mr. Denny got his start in sound when he was involved in the music industry, but has expanded his skills through a variety of domains, including studying the wiring at Monticello and combining forces with Mr. Chatterson, Mr. Hartshorn, and Ms. Pitts to cover what was lost in the performing arts when Mr. Betthauser died. Laughing, Mr. Denny says that "it took all of us to make up for Mr. Betthauser because that man was amazing. He just drew you in. We just thought that the things he did need to keep going, and that drew me in all the way."
As you would expect from all you now know about Mr. Denny, he spends most of his time at Western, but that's certainly not to say he isn't just as interesting outside of the building. Mr. Denny is a very enthusiastic person, but when talking about his garden, his zeal for life is truly apparent- "I love gardening… It's my second love. I just keep expanding with all the things." One part of this expansion is his chickens, which are named Chicken 1, Chicken 2, Chicken 3, and so on, so as not to get too emotionally attached when they are constantly killed by foxes, raccoons, and bears. Mr. Denny assures me that he's not a soulless monster, that "I do pet them once and a while." If you need further persuasion of this fact, which I hope you don't, know that every morning, after eating his cereal, he takes half a bowl out to his chickens, just to make their day. 
I consider Denny Barberio to be a sort of cultural phenomenon unique to Western. In my experience, anytime someone mentions Mr. Denny, someone else gushes, "I love Mr. Denny." He identifies himself as the "guy who keeps retiring," but in a very cheesy way, he is a lot more to the students of Western. On the back of Mr. Denny's album is a note from a fellow artist. This fellow artist writes that Mr. Denny has the "enthusiasm of a firecracker, the humility of a sunset, and the talent of a star." I cannot think of a better description. If you do spend time studying images of Mr. Denny's album, as I did, you will find an address for the P.O. Box of the Denny Barberio International Fan Club. I, for one, would call myself a member.