Western Loses Two Principals
Lee moves to Charlottesville, Gillespie will be principal at Virtual School
With a wild school year coming to a close, even wilder news came with Western's two leading administrators announcing their departure from the school after the 2021 year. Principal Jason Lee plans on moving to a position with Charlottesville City Schools, and Associate Principal Reed Gillespie will be taking on the role of principal at the new virtual school with ACPS, which will launch at the start of the 2021-22 year. For graduates of 2022, this will mean a new principal at WAHS for each year of high school. 
"After many years of coaching and being away from my family, and then many years as a building level administrator, all of the extra time spent, it was time for me to spend a little bit more time with my family," Lee explained.  He says it had nothing to do with the school itself, and actually that it was more of the situation. 
"I did not have any, you know, discontent with what I did this year with my experiences. Yeah, it was definitely pleasurable. And it wasn't anything that I experienced this year that caused my change of direction in life, it was just life circumstances, life experiences, and just recognizing that, you know, time matters a little bit more." With COVID running rampant and an already highly demanding job, Lee realized that time spent with family was being overtaken by the workload, and that moving to a new position was the right option for him. Lee will be taking a job in the Charlottesville school system focusing on student services, operations, and safety.
When asked his opinion on the necessity of this new schooling environment, Gillespie had this to say: "I think really, it's an opportunity to reimagine education in a way for the students and the families that will be making the choice or have made the choice. I think really we have to get to the heart of why they're making that choice," he said.  "For some, it's going to be medical reasons, either their children's or some of the family members'. But for others, it'll just be better. My daughter, for example, did much better in virtual school this year and is interested in continuing with it the next year. We have to figure out why that's the case, and then also try to figure out how we can provide the education that they need next year in the virtual school, but also, what can we take back to the base schools, the other schools in the county, to make sure that we're meeting the needs of every student?"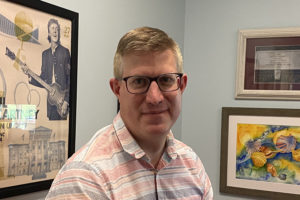 Not only is the virtual school offering a new option for students due to health safety precautions, Gillespie points out that it can also offer various other ways to give students the help they need that in-person schools are unable to do. "For example, let's pretend that one of the things that the new school could do is provide more flexibility in terms of student scheduling. Whether that's something like we had five students here that want to take, pretend it's a Women's Studies class, and there were seven students at Albemarle, and there are three students at Monticello that want to take it, well, that might not be enough at any of the three schools for that to be able work as a class. Then maybe we can offer it in a virtual environment. You know, many other opportunities for us to partner with the community is something else that we were looking at."
Though Gillespie's time at WAHS was short lived, similar to Lee, in only one year spent here, he said he was able to notice our community connections and togetherness as a school. "There's just so much that's going on in this building and outside this building in the community that I wish I had gotten to see. Because it is what separates Western from so many other schools, that culture of high achievement and commitment to the whole child."
Though we will miss our administrators' enthusiasm and dedication to the school, we will not forget the effort they put in each and every day to make the environment a bright place in darker times, and wish them luck with their new positions.