WAHS Students Working Year-Round at Local Restaurants
With the pandemic resulting in canceled extracurricular plans and the change of the structure of school, many upperclassmen have decided to spend their free time working at local restaurants. Online school provides students with the opportunity to work during the school year, especially because of the asynchronous Friday schedule. Although students still have the same number of hours in class, online school provides more flexibility.
Some WAHS students began to work during the summer. Junior Bella Tesoriere, a hostess at Vivace, said, "COVID canceled all my summer plans, and I like to stay busy."
Similarly, senior Xander Vaughn, an employee at Blue Mountain Brewery, said, "I decided to work over the summer and continued to work during school because of the free time I would have." 
Other students are looking ahead to save money for college and to get some experience with a job. Many students found that restaurants were more inclined to hire young high school and college students, primarily because they are low-risk for the virus. Junior Grace Boitnott, an employee at Chipotle, said, "I decided to start working mostly because I wanted to start saving up for college, and the only job experience I had before Chipotle was babysitting, tutoring, pet sitting, etc. I decided it was time to get an actual job. And also because I was bored, because it was during quarantine and COVID, and I wanted something productive to do." 
Similarly, junior Ravenna Barber, an employee at Smoked, said, "I mainly decided to work because I needed a job in general, but online school definitely gave me a great opportunity to work."
Restaurants are taking extra precautions with COVID-19 to ensure that their employees and customers feel safe. For example, employees are required to wear masks and frequently clean regularly-used surfaces. Barber said, "Smoked changed the layout and the logistics of ordering food for the pandemic."
Vaughn added, "It is a lot different because of COVID, we can only seat half capacity, so when COVID is over, I will have to learn the tables all over again with twice as many to learn."
WAHS students are grateful to have jobs, as well as perks, and have formed great relationships with other employees. Tesoriere said, "I like working and the people I work with, and I get a meal with each shift."
Boitnott said, "I picked Chipotle because I love the food, obviously, and they were very desperate for staff members. I also liked the friendly environment and the fact that they served healthy and delicious fast food."
Vaughn said, "I chose Blue Mountain because the times I had been there it seemed like a fun and relaxed atmosphere, which it is. As I started to work there, I have made relationships with my coworkers that I will never forget."
Boitnott added, "I liked Chipotle when I first started working there because of the perks. For example, every time we worked a shift, we got free food, anything we wanted. We also got a discount on food if we came in on a day we were off."
With regards to managing online school and a job, WAHS students recommend staying organized and not overcommitting. Tesoriere said, "School/work balance honestly has not been a problem for me. I used to work 5-6 nights a week in the summer, so when I started school and cut down to 3-4 a week, I found that I had plenty of time to get everything done."
WAHS students that work at restaurants encourage other students to do so as well. Barber said, "I love my job, it's a super fun atmosphere and the people are really great."
Vaughn said, "I don't regret my decision to continue working during school and one of the major perks is that I am friends with some of the cooks, so I get free food."
Students interested in working during the school year should contact local restaurants.
About the Writer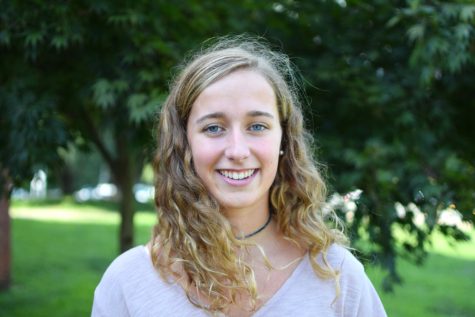 Darrah Sheehan, Staff Writer
Darrah is a sophomore and this is her first year in Journalism. She swims for WAHS and Boar's Head. When she is not at school or swimming, she enjoys traveling,...