Wrestling Team Hosts Dance at the Lodge
WAHS Wrestling gives back to the elderly community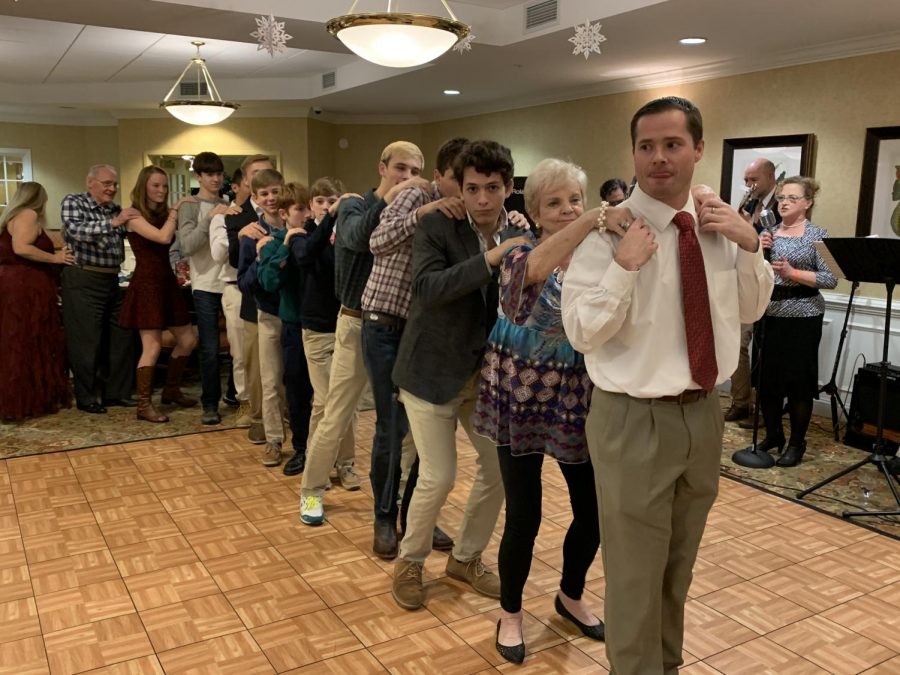 A night of chicken tenders, swing dancing, and live music by the Jim How Jazz Ensemble commenced January 28th at the Lodge at Old Trail. Varsity Wrestling Coach and ESA Director Adam Mulcahy led a conga line of teenagers and elderly residents, marking the second year of this new wrestling team tradition.
This tradition began in 2019, with members of the wrestling team going to the Lodge for a joyous night of service in the Crozet community, filled with dancing and memorable time spent with residents.
"Wrestling does not typically get the same coverage and attention as sports like football and basketball in the Western Albemarle community. This was also a way that the team could support their local community and give a few hours of their lives to spending time with someone else," Mulcahy said.
Although competition is fierce between teammates, with the individuality of wrestling, this experience brings the team together in an event away from the sport. Senior captain Max Morrison has attended the dance both years.
"We all come together to give back to the community, and we get to enjoy each other's company and set wrestling aside for a night. We all walked out with a smile," Morrison said.
This experience not only brings the team together, but also offers residents at the Lodge a chance to see familiar faces and poke fun at the teenagers who are struggling to find their groove.
"I get a kick out of watching the guys trying to figure out how to deal with the old ladies. It's rather comical, actually. Some do it very well and others are a little, you know, a little awkward," Camilla, a six year resident, said.
The event allows the team to have a chance to give back to the community while also solidifying their bond as a team. This type of community service can be frequently overlooked.
"Being able to put a smile on the faces of the residents means the most to me personally," said Morrison. " I feel like the residents of the lodge can often feel discarded, so to be able to go in there as a young group of men and women and show them respect and give them a great night means a lot."