David Sedaris's most recent release: Theft by Finding Diaries
David Sedaris's Theft by Finding Diaries 1977-2002 is unlike any of his previous publications. Including titles such as Naked, Me Talk Pretty One Day, and When You Are Engulfed in Flames, Through Sedaris's memoirs, he details important periods in his life. However, Sedaris's diaries span over a period of 25 years. His voice is unusual, self-deprecating, and incredibly funny.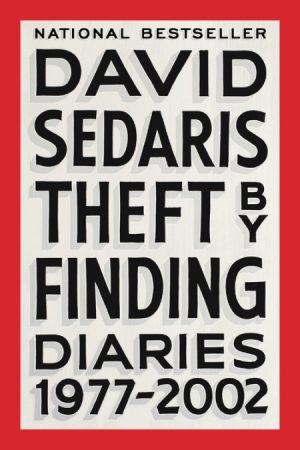 Sedaris's entries are often short, and without a direct expression of his emotions. In fact, his introduction included the explanation that he purposefully refrained from writing his emotions. That said, his diary is thoroughly moving. He endures tragedies in his family, including his mother's death of lung cancer and his sister's chronic depression.
Sedaris starts out in a rural North Carolina town, where he abuses drugs and works low-paying jobs. As a gay man, Sedaris feels out of place in his family and in such a small and close-minded community. After traveling around the United States for awhile, Sedaris makes connections which allow him to publish his writing and broaden his world view.
While living overseas with his long-term partner, Hugh, Sedaris and the rest of the world experience 9/11. This is a significant focus in his diaries following September 11, and he writes about the growth of tension and xenophobia both in the US and overseas towards people of Middle Eastern and Islamic descent.
I would absolutely recommend this book to anyone interested. Reading the diaries of another person feels incredibly personal, and experiencing someone's unfiltered voice was something I'd never had the chance to do before reading this book.