A Morning of Community Service
WAHS with a Cause is the first school-wide service day where students trade class for various improvement projects
With spring break rapidly approaching later in the week, students spent their Monday completing tasks on and off campus for WAHS with a Cause, a school-wide community service project. Student were able to help their community in a variety of ways while also getting a nice break from the end-of-quarter inundation of school work.
WAHS with a Cause was organized this year to involve every student at Western. The event was the result of a four month effort by Leadership to create participation among students in community service projects and was modeled after an ongoing Fluvanna event. Each student was assigned a task based on a list of their top choices and spent their mornings working around Western and the community.
Many students could be found completing tasks on the school grounds. Shovels and uprooted onion grass in hand, National Honors Society students worked to prepare for new benches and sunflowers in the courtyard. Meanwhile, students worked in front of the building and near the tennis courts to stencil quotes on the sidewalk. Juniors Ineke La Fleur and Mae Evans were quite enthused about the hydrophobic spray that they were using to fill their stencil, whose message will show up only in the rain. "We're trying to make the front of the school a little cheerier and less depressing in the morning," La Fleur said.
Inside, students worked in the shadows of the auditorium to label microphones and create a guide for ease of use. Around the corner, the band hallway had become a jumble of props, costumes, and drama students as they worked to clean out their backstage area. Junior Henry Davies, senior Lawson Walker, and sophomore Brayden Crickenberger cleaned off microphones, which were well used from the recent production of "Sound of Music."
"We are ensuring that next year's musical is sure to be a success," Davies explained as he scrubbed a wire to sanitize it.
Students in the choir room worked to create "plarn" mats out of plastic bags. Referencing their instruction packets, each student wove bags together to into chunky strands. "It's harder than it looks!" senior Heather Deacon mentioned while adding another bag to what would become her mat.
The music that played from the cafeteria faded behind the loud voices of students and the coloring of their markers. Many students were making cards for veterans to show their appreciation, while a small handful of other students sat quietly honoring their close connection they have with veterans. "I did this project to show respect and appreciation," freshman Maddie Guthrie said as she continued coloring in her card.
"My great grandpa served in the Korean War. He recently passed away on Christmas Eve. He flew in the war and my great grandma worked at a base in the war and that is how they met," another student said.
In another project in the cafeteria, about 40 students made place mats for Meals On Wheels, taking strips of colored paper and tape, and turning them into place mats. A group of freshmen girls gathered in a circle towards the back of the cafeteria working on placements, while stacks of finished colorful place mats piled up in the middle of their circle. Freshman Elke Beaumont, the creator of this project explained that her leadership group in charge of this project "wanted to do something to help. We eventually realized we want to make place mats."
Around the corner, students gather in the A-hallway with paint splashes on their hands and clothes as they paint over the bland white wall with Western colors and logos. Senior Sarah Beth Manning focused intensely as she painted the map of the world in blue. Freshman Anna Abounader painted the geometric designs around the Western logo in blue because "blue is my favorite color." Freshman Annabeth Stancil smiled with paint all over her hands said, "Yesterday we put all the tape up and then I did the Western logo. This morning I came in and sketched out the world map."
WAHS with a Cause's first year in action was a success. 'I think people are pretty happy," said junior leadership student Alice Taylor. "The only problem we've found is people want to have more of a part in designing the mural, which is good to know for next year."
About the Writers
Julianne Kirby, Editor in Chief
Julianne Kirby is a senior in her fourth year of journalism. She likes writing investigative articles, promoting just and impactful opinion writing, and...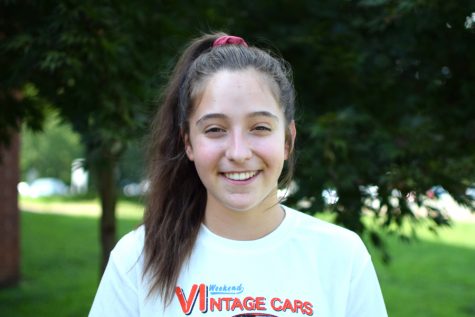 Michal Kipnis, Staff Writer
Michal, who also goes by Michael, Mik..uh..al, or Um is a sophomore. She enjoys laughing at her own jokes when no one else does, almost burning the house...