Rece Davis: "(UVA) is a great place for us to come."
Hang on for a minute...we're trying to find some more stories you might like.
For the fourth time in the last five years, ESPN's College GameDay paid a visit to John Paul Jones Arena. With Virginia (#3) and Duke (#2) both ranked in the top three prior to the match-up, it was pretty clear, GameDay would be returning to the Commonwealth. Rece Davis, the host of GameDay, says Virginia has "the best" GameDay crowd by a long shot.
Rece Davis: "They're love for their school and for their team, and the way they take a chance to showcase that on our show, we're deeply appreciative of. They give us a great environment."
Some students decided to brave the frigid temperatures to ensure they'd have a spot in one of the front rows. Some of them brought tents and camped out for twenty-four hours. That decision paid off as the line at midnight went from around a few dozen to a few thousand by sunrise.
RD: "We always say we can do a great show whether we have a good crowd or not, but when you have an unbelievable one, it gives you a little juice and it makes it a lot more fun."
Each time GameDay has come to Charlottesville, a student has drained a half-court shot to win $18,000 in tuition. That price bumped up to $19,000 this year. The chances of the student making the shot are 1 in 100. For all three to make the shot, 1 in 1,000,000. Gabriel Simmons was the lucky student selected. However, he had some massive shoes to fill. With 6 seconds left, he drained his fourth shot to win $19,000 and made Virginia FOUR for FOUR in half-court shots.
Virginia later fell to Duke in the highly anticipated rematch, 81-71, but the full College GameDay experience is certainly something the Virginia students will never forget.
About the Writer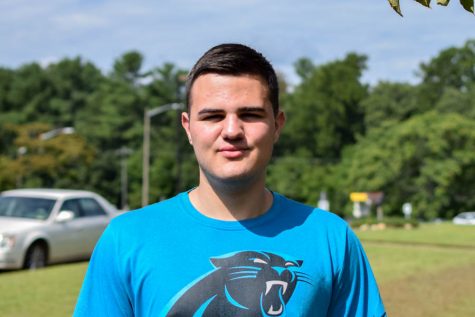 Sutton Young, Staff Writer
Sutton Young joins the Western Hemisphere Sports Team after two years as the schools sports anchor. Born and raised in North Carolina, Sutton moved to...