Rap's Most Recent Beef: Machine Gun Kelly Challenges Eminem
Hang on for a minute...we're trying to find some more stories you might like.
On August 31, 2018, Eminem released a surprise album titled "Kamikaze." The album was designed to fire back at everyone the Detroit rapper had beef with, including many of his critics. He dissed at least 20 rappers and critics on the album, one of them being Machine Gun Kelly. On the song Not Alike, Eminem includes a bar dedicated to their beef, taking shots at him and referencing the origin of their feud. Just three days later, MGK fired back with his own single, Rap Devil, a five-minute track dedicated solely to dissing Eminem.
Machine Gun Kelly, whos real name is Richard Colson Baker, was born in Cleveland, Ohio in 1990. He began his career in 2006 with the release of his first mixtape, and has been slowly releasing music since, signing his first contract in 2011. Eminem, Marshall Bruce Mathers III, is considered a legend in the rap game by most, and some say he's the greatest rapper alive. He was born in 1972, and  released his debut album in 1996, when Baker was just 6 years old. Baker grew up listening to his songs and has described Eminem, nicknamed "Em," as his "idol" on numerous occasions.
In May of 2012, however, a tweet sent by Baker changed it all. The tweet, in which Baker describes Eminem's daughter Hailie as "hot" was not well-received. At the time, Baker was 22 and Hailie was 16. Mathers said nothing in retaliation, but instead allegedly used his influence to "blackball" Baker, who claims that Mathers had him banned from several radio stations including Shade 45, Mathers' own Sirius XM channel. This upset Baker, as he felt he wasn't deserving of such punishment, and Eminem hadn't publicly responded. On top of that, according to Baker, the ban on his music was seriously harming his career. In a 2015 interview with Hot97, Baker voiced his frustrations, "Pictures of [Hailie] had came out, and I'm like, what, 20 years old, 21 at the time? I said 'She's beautiful, but all respect due. Eminem is king. What's wrong with that?" Baker said he viewed Mathers' behind-the-scenes actions as cowardly, but aside from a few subliminal disses, the 2012 beef was left alone by both parties. Until now. Six years later and still feeling the effects of the Shade 45 ban on his career, being dissed publicly on a surprise album was too much for Baker. He clapped back with Rap Devil, whose title was a play on Em's 2013 hit Rap God.
The five-minute track received critical acclaim, reaching number one on the iTunes charts, and the Worldstarhiphop exclusive music video gathering almost 60 million views on youtube within a week of its release. The song contains many biting lyrics and retaliations, making it clear that MGK went all out. He has implied on Twitter that it was released as a defense, and that he won't stand for Eminem using his influence to harm smaller, younger artists. In Rap Devil he calls Em a "bully acting like a baby." He addresses the tweet once again by saying, "The big, bad bully of the rap game can't take a… joke."
In a recent interview with Sway Calloway, however, Eminem implied that he did not ban the rapper from anything, saying, " I don't [care] about your career.  You're not even in the… conversation." In fact, he claims that the real reason behind his diss on Not Alike was because of the fact that the Shade 45 ban was a myth, and MGK was selling it. It was a way to put the younger rapper back in his place. On that point, Eminem says he was reluctant to respond at all, because everytime he talks about his enemy they get more exposure. He also denied some other claims made in Rap Devil.
But the craziest part about this feud is the fact that the 28-year-old Machine Gun Kelly decided to take aim at Eminem, the diss god of the rap game himself. In terms of beef between rappers in his professional career, Eminem has never lost. His unique rap style and legendary wordplay has a tendency to destroy his enemies' careers faster that he can drop the mic. He has the ability to effortlessly dismantle his opponents and use comedy to simultaneously make his audience laugh at their expense. Over the years, Em has dethroned rappers such as Ja Rule, Insane Clown Posse, Benzino, and many more. All of these rappers faded into obscurity shortly following their tangle with Em. It is well known in the rap community that no one who wants to have a career at the end of the day is going to ever diss Eminem, for any reason. And yet here comes a young, but no doubt talented rapper with a viral hit bent on defending himself.
On September 14, Eminem responded with his song, Killshot, despite the rumors that he might not. It was very well received, especially by Eminem fans. In the time it took Rap Devil to reach 60 million views, Killshot gathered 90 million. In the song, Eminem addressed most if not all of MGK's points, using his signature flow-switching and lyricism.
So who won? While there's no clear answer yet, and are arguments for both sides, general consensus seems to be siding with Eminem. A Youtube commentator known as Crypt used a complex point system to compare both songs through their use of rhyme schemes, quality of disses, and more. In the end Eminem came out on top, winning in almost every category. It would appear as though the Rap God has defended his title once again.
Update: In the time since then, the formerly heated beef has died down somewhat. Machine Gun Kelly has not responded since the release of Killshot, although he did release an EP called Binge. Binge more or less flopped, implying that he might be faced with the same fate as so many before him, having his career ended by Eminem.

About the Contributors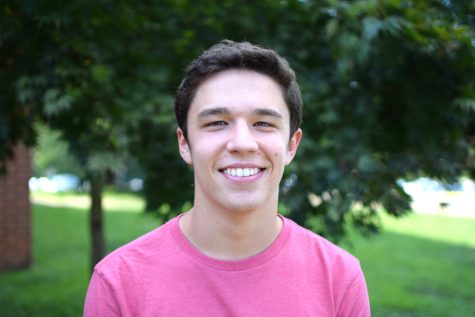 William Peritz, Editor in Chief
William Peritz is a senior at WAHS, in his fourth year of journalism. He is on the Swim & Dive team, loves living in Charlottesville, and enjoys spending...