Fresh Faces All Around: Assistant Principal Teresa Tyler Joins WAHS Community
What is something you've been meaning to try but just haven't gotten around to?
It could be any of the new restaurants actually in town. One of my former students opened up a restaurant downtown and I have been meaning to go to that. It's called Renewal Restaurant and it was opened up by a former student and I thought I'd get down there this summer, but then I had my foot surgery. But that's top on my list of things because you know, when former students open things, I always try to go check it out.
What college did you go to?
For my undergrad I went to the University of Virginia, I was an English major there. Then,  I got my masters in education at a small women's college in South Carolina, where I grew up, called Converse College. Then I got my educational leadership endorsement at Longwood, so three different colleges.
What are your first impressions of WAHS?
Oh, I love WAHS! Everyone is very friendly, I've worked in the county for 26 years, so, you know  I've had some interactions with WAHS. I was at Henley for two years, so I know a lot of the students and I love it. I'm very excited to get to work with the same students again.
What is your favorite sweet and salty snack combo?
Oh, I love sweet and salty snack combos, those are almost irresistible to me! Well, one of my favorites is baked brie cheese with fig jelly on top and I like to eat it with either crackers, with apple slices, or even all of them, and sometimes with bacon too! That's when I'm being fancy, anything will do really.
What's something that happened or something that someone said that changed how you view the world?
Well, it didn't change things, as much as it solidified what I feel like I already believed. I was actually having a conversation with teachers about school and why we come to school. I believed and said that we come to school because of the students, right, like that to me is just basic. We come to school because there are students there. This other teacher is actually saying, students, come to school because we are here. It's a slight difference, like really the truth is that we all come to school to be together, teachers and students, and the admin, we all come together to do the learning, it's all about learning. It solidified that students are the most important part of school and the job. I already kind of like knew that but I actually put it into words and it solidified it because I was like, it's different then them coming because we are here. I'm pretty sure they actually come to see each other too, I'm pretty sure everyone just comes because of the students.
What are three interesting facts about you?
1. I really like going to music festivals, that's something I think most people don't expect.
2. I think it's interesting that I taught English for 24 years. I love literature, and movies, and story, and like what you can learn from other people's stories.
3. I love Lord of the Rings and other sorts of nerdy things
What makes a 'good day' at school?
A good day at school is where I get to spend a lot of time with the students and not because there has been a problem, positive talking with students, that's a good day at school.
What's a school sport or activity you enjoy watching?
I love watching basketball and volleyball, I love watching both of those sports. I enjoy all the other sports actually, but to me, those two are very exciting. Like sometimes I watch soccer or even any other thing like field hockey or lacrosse and there's a lot of running around and stuff happening, you can't always tell what's happening. I can just tell when the score goes up, and it's easy to follow the action.
If you could take students on a field trip to anywhere in the world, where would you take them?
I would take them to, well actually, I used to take students on trips and I had a rotation of three trips. So one was London, then in Paris, and the other one was the Greek islands, Athens and Rome, and the other one was Florence, Nice, and Paris. So if I had to pick one place though, it would be the Greek islands, that's my all time favorite. I took students there three different times that came around in the rotation and it was my favorite.
About the Writer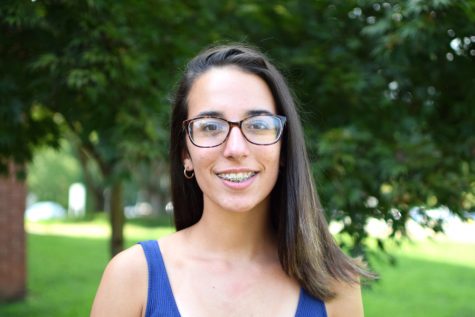 Brookelyn Shantler, Editor in Chief
Brookelyn Shantler is a Senior entering her final year on the Western Hemisphere staff as an Editor in Chief. Outside of school, you can find her working...