Canine Actors Break a Paw in "Legally Blonde"
Among the talented cast of more than 50 actors gracing the stage in Legally Blonde, there's two standout stars that must be talked about— and no, we're not talking about Elle and Emmett. This year's spring musical features two canine cast members stealing the spotlight with their talent, and sometimes tongues.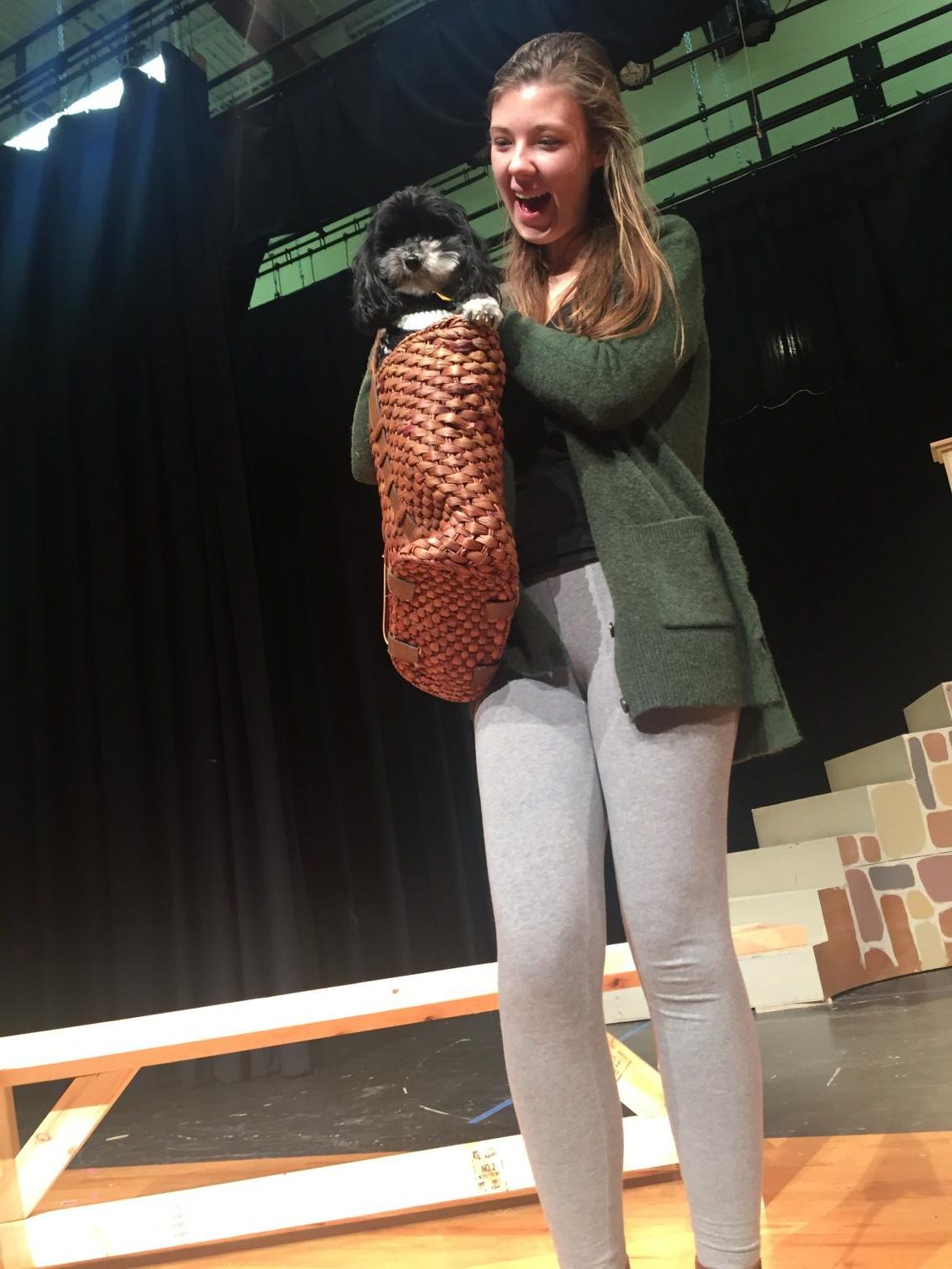 Elle Woods brings with her to Harvard her beloved pet dog Bruiser. Though the role is traditionally played by a Chihuahua, the WAHS production of Legally Blonde is instead featuring Macy, an 8-pound, 3 year-old Havanese, as the pivotal role.
Macy is joined by fellow canine costar Apollo, a Golden Retriever owned by sisters Isabelle and Georgia Jordan. Apollo plays the role of Rufus, a dog formerly owned by the hair stylist Paulette. Rufus was taken by Paulette's ex-boyfriend Dewey after they broke up; Elle helps Paulette get her beloved dog back as the first test of her legal abilities.
The two dogs were cast through a dog audition held in January, judging the dog's appearance and behavior, as well as their friendliness to other actors. Both dogs come to rehearsal at least one day a week to practice their parts. Macy's responsibilities include being walked on a leash by several different actors, as well as being held and carried in a bag. Meanwhile, Apollo's role mainly includes walking on and offstage, motivated by treats held by senior Erin Nelson, who plays Paulette.
"I don't have any pets so it's very fun working with Apollo," Nelson said. "He's a very calm and loving boy."
The two dogs have been a welcome addition to the cast, and are beloved by their fellow actors and crew members. "They bring out the best in me," director Caitlin Pitts said. However, Macy and Apollo prefer the company of their human cast members to each other.
"Macy likes him, he doesn't like her," Macy's owner, junior Natalie Russell, said.
Both Macy and Apollo can be seen in this weekend's performances of Legally Blonde, March 16 and 17 at 7:30 and March 17 at 2:30. Tickets are available at the door, at Mudhouse in Crozet, and online at https://events.ticketprinting.com/event/Legally-Blonde-26731. The show is rated PG-13.