SPCA Fetches Hurricane Harvey Survivors
On September 4th, the Charlottesville-Albemarle SPCA sent four faculty members down to BARC, the city of Houston's animal shelter and adoption agency, to retrieve pets left behind after hurricane Harvey. The staff took the Compassionate Care-A-Van down to Houston and came back with 70 new additions to their shelter.
In order to make room for all the new pets, the SPCA had a big sale to clear out space. They hosted an event in Charlottesville from September 2nd to September 4th to try and get as many dogs and cats adopted as possible. During the event, they waived adoption fees to make people more interested in adopting.
"Upon initial arrival of the animals it took a team effort to intake all animals and place them in housing throughout the shelter and or find a foster home for them," Chelsea Mitchell, a SPCA worker said.
Without clearing space,taking in all of these new animals would have proved to be almost impossible. Not only would it be overcrowded, but it would make the workers and volunteers' lives much more hectic.
The Charlottesville SPCA is one of the only no-kill shelters on the East Coast, meaning they do not get rid of the animals unless they are adopted or die of natural causes. Because of this, it is important for the SPCA to have families willing to foster pets to avoid overcrowding. The fostering program at the SPCA is one of their most valued programs. It allows the pets to have a change of scenery while still up for adoption. Fostering is being encouraged to anyone interested, as it will not only help the animals, but will help the SPCA with their workload.
One sophomore, Chloe Kienzle, has been a foster parent to many lucky kittens. She will not be fostering any cats or kittens from Harvey because she has just adopted two from her last batch, Berry and Potsie.
"Me and my family have fostered over 20 kittens and other cats from the SPCA. The fostering program is really great. You take home these kittens, and first attend a training seminar, but it's really fun because they are all cute and tiny, and you get to play with them," Kienzle said.
Another frequent foster parent and ex-volunteer is senior Niki Karaoli. Karaoli and her family have been fostering for about 10 years, establishing their role as one of the SPCA's go-to foster families. Because of Harvey, the Karaolis will be adding a new member to their foster family.
"There is a lot of involvement for fostering, and a lot of volunteers who are willing to take animals in," says Karaoli, speaking of the giving community surrounding the SPCA.
While there are many people willing to foster animals from Virginia and Harvey, a permanent home for the animals is the ultimate goal. With the help of the Charlottesville community, 50 animals from Houston have found a forever home.
About the Writer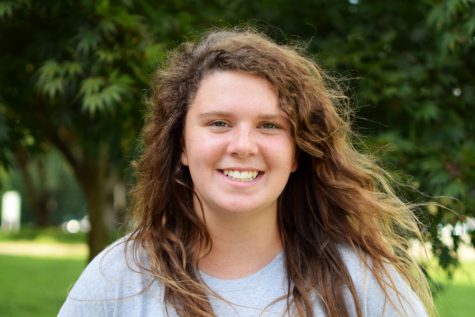 Sidney Jackson, Editor in Chief
Sidney Jackson is a senior at WAHS, and this is her fourth and final year working on The Western Hemisphere. This year, she will be acting as an Editor-in-Chief....