Is Light Rail an Option for Charlottesville?
LRT, or Light Rail Transit, has been increasing in popularity in cities all over the United States since the 1980s and today remains the most appealing method of local public transit, even over natural-gas-powered Rapid Bus Transit. Many cities in the US have some form of rail transit, whether it's light rail, heavy/commuter rail, or regional services from companies like Amtrak and Virginia Railway Express.
Of these options, light rail is the most popular and cost effective, making it a viable system for medium-to-large sized metropolitan areas and college towns. In recent years, Charlottesville has placed a focus on local public transit, most recently consolidating Charlottesville Area Transit with Albemarle's JAUNT system. The city has also been making an effort to increase ridership and the number of trains running through Charlottesville Union Station, our local regional hub owned by Amtrak.
With a steadily growing metropolitan population, now estimated at over 150,000 permanent residents (this doesn't include UVA students or tourists), Charlottesville and Albemarle County have considered implementing a light rail system in our region within the past decade, attempting to make one of the nation's most desirable regions into one of the most progressive. Although talks have lost steam in recent years, light rail would provide an environmentally friendly way to ease traffic around the city and its satellite towns, including the airport to the north, Pantops to the east, PVCC to the south, and most importantly for WAHS, Crozet to the west.
How exactly does this impact Western, though? Well, the LRT system proposed in 2004 by our Metropolitan Planning Organization, the TJPDC, placed stops in Crozet, at Henley/Brownsville, and at WAHS on the west-bound route. A modern design of the system would likely also position a stop or two in the Old Trail neighborhood. Heavy traffic is a problem that everyone at Western is affected by. Two of Crozet's four stoplights are just outside our lawn on 250, which, also, is pretty much the only reasonable route for Crozet's 5,000+ residents to get to Charlottesville, where many people work. That's a major stress on morning and afternoon rush-hours, and all that in addition to three schools within a quarter mile of each other, housing over 2,500 students combined, makes for a particularly trying experience during the workweek.
With a light rail line between C'ville and C'zet, the massive traffic flow would theoretically be stanched. Students from the Crozet area, Western Ridge, Ivy, West Leigh, and West Charlottesville would have direct delivery to all three schools, reducing the number of cars and busses on 250. People in Crozet with jobs in Charlottesville would also have essentially a direct delivery to their place of work, though due to constraints on the location of light rail trackage in the dense city metro, bus services from CAT, JAUNT, or UTS would still be necessary.
Rail is the perfect solution to our traffic problem, not just around WAHS and Crozet, but in the city and surrounding counties as well. Since LRT usually has a dedicated Right-of-Way, the trains move constantly, only stopping at stations and not stuck at traffic lights or behind other vehicles, something that Rapid Bus Transit cannot claim. Light rail, which is less expensive to construct per mile than an interstate, remains costly even with extensive federal incentives. However, the initial cost can be balanced by having fewer cars on the road over time and substantially less pollution produced.
LRT is actually more cost effective than buses, as capacity is essentially unlimited. If needed, trains can be lashed together to accommodate heavier loads of passengers. To do the same with a bus system, more buses would need to be on the roads, further congesting the already heavy local traffic. An inner city loop, western line, and a northbound line would be incredibly beneficial to our region. The northbound line would ease congestion on US 29, already a traffic hotspot in Central Virginia, and provide easy transport for the 500,000 people who use the Charlottesville-Albemarle Airport every year, the 12,000 people working at the North Fork UVA research park, and many people who work at the government NGIC facility in northern Albemarle County.
Light rail would be a large hurdle for Charlottesville and Albemarle, but the benefits seem to outweigh the drawbacks. If the system were indeed implemented and ran a station from WAHS to Crozet and the rest of Charlottesville, Western students would have a fast, cheap, eco-friendly way to get between these three important places.
Loading ...
About the Contributor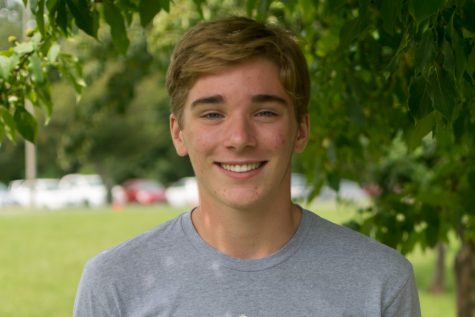 August Lamb, Editor-in-Chief
August is a senior at Western and a fourth year Journalism student. For his last hurrah in C107, he dons the coveted Editor-in-Chief cap along with Mia...