Wacappellas Hit New Highs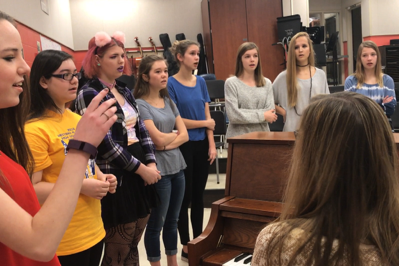 Every so often, you may find yourself whistling, humming, and tapping to a song that you just can't get out of your head. When the new a capella group at Western was created, students of all grades came together and shared their abilities to sing without instruments.
The Wacappellas officially began after winter break with auditions held by junior Alice Ferrall, with help from her fellow juniors, Avery Jordan, Kathryn Edwards, and Indigo Witt.
"Mr. Betthauser really loved a cappella and wanted to get it started up at Western again. So really late November, after things changed, me and my friends were sitting around and talking about what we could do, and we decided that we were going to bring a capella back to Western," Ferrall said.
The group currently has a total of 22 members, who are divided into Soprano ones, Soprano twos, Alto ones and Alto twos. Additionally, there is a beatboxer to keep the rhythm of the song on beat. With the SSAA grouping, the Wacappellas have to choose songs that are fit for the notes that they can execute. However, according to Farrell, there are some strong altos who can sing in lower ranges, and if the group does want to sing a song traditionally performed by men, all they need to do is adjust the music.
Although the club began halfway through the year, the leaders believe that it will be a full year group that will continue in the spring. The steady year session will allow those who are in sports to tryout in their offseasons. The group encourages others to join the group in the future, to share the modern, musical experience.
"Maybe you don't do drama, theater or choir, but you still like to do it [sing], this gives you another little place to sing," Jordan said.
The first song that the four vocal levels are singing is "Pumped up Kicks" by Foster the People. This song will first be performed at their upcoming event, A Cappella Fest, on March 18th. This event at St. Anne's Belfield hosts different a cappella groups to perform in front of a large audience and take part in college a cappella group-led workshops.
The group is student led, and therefore the members were able to choose their own concert material and outfits for the A Cappella Fest. Edwards added, "We decide what we want to do. It's not one of those things where the teachers decide the songs, it's actually songs we enjoy singing."
The group spends time together outside of school in addition to their Friday morning rehersals. Ferrall explained, "We have definitely been brought together as a group, because we are doing a lot of team bonding stuff. For example, we are coming up with nicknames for each other, and we have movie nights where we watch stuff like Pitch Perfect."
Ferrall demonstrated her optimism and joy towards the growing Wacappellas when she exclaimed, "It's just really fun, it's like a movie…It is incredible."