Wyant's Store: Best Quick Food Off the Beaten Path
Wyant's Store is a small gas station with one out of date gas pump on the far side from the parking lot. It lies just in front of a big field, and the inside feels more like a cozy room than a gas station. When you walk into Wyant's Store although you wouldn't expect much to come out of their small kitchen their food is fantastic and lighting quick. There aren't a vast array of appliances, only an old white stove and oven which cooks all the food. It feels like you're buying a home cooked meal which is specially made for you. The shelves are wooden and there are an array of desk chairs surrounding dark wooden tables in the back. When you enter, It's easy to tell how long their business has been a staple of White Hall.
Wyant's Store has been in White Hall, Virginia since 1988 and their food is always prepared quickly by the family who runs it. Their menu is simple and classic; burgers, breakfast, lunch sandwiches, and biscuits and gravy. Orders never take long and the staff is friendly and attentive. 
The Wyant's cheesesteak, although it may not be as hearty as others, is the perfect balance of quick and delicious. You get to see the steak and cheese get put on the grill, and it's usually in your hands seconds after you check out. Their steak is always grilled to perfection, and you can taste the grease in the best way imaginable. The meat doesn't melt in your mouth, but dominates the area imposing its greasy umami flavor upon your entire mouth. That being said, the bread ratio is not skewed like many competitors' models. You always get the right mix of bread, meat, and cheese. You get to choose your cheese variety, and the addition of fresh jalapenos offers a perfect bite of heat. Its size is not necessarily large, but is substantial enough to be the perfect lunchtime pick up. 
The biscuits and gravy are classic and ample. The gravy is filled with sausage and always applied liberally. When you open the container it looks like a delicious snow day with smooth white gravy. The biscuits aren't the fluffiest or the butteriest you've ever had, but the gravy is good enough to make a double order worth it. They're abundant enough to leave you stuffed to satisfaction and delicious enough alone to push you past that point; but I prefer to pair them with a burger. The gravy is what really makes this order worth it and if you go to Wyants is a must-have.
Another classic, their burgers are easily the best gas station burger I've ever had. They come out at lightning speed and are on a smaller bun heaping with fresh ground beef and the cheese of your choice. The meat is juicy and normally is falling out of the bun. I recommend ordering the  "Carolina Way" which adds even more toppings and some serious flavor with coleslaw, chili, onion and cheddar. This burger is sloppy but packs a punch. The biggest complaint you could have over their burger would have to be how hard it is to fit it in your face. Overall the Wyant burger is a diner style smash burger which, with some additions of toppings, is the perfect pick up for a no hassle lunch.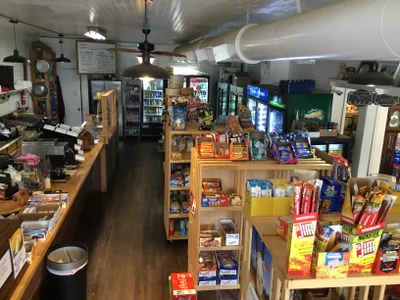 The only order I wouldn't make at Wyants would be the home fries. In no sense are they bad, but other local options far exceed them in quality. The potatoes are cut into tiny pieces which are not substantial enough to be easily skewered with your fork. It's like eating potato dippin dots, which sounds more enticing than it is. They taste alright but are inconvenient to try and pick up with your fork, and in my opinion are cut much too small. Because of their inadequate size, they are overwhelmed by the grease, which can be remedied by the addition of sauce but is not ideal. The seasoning is solid and they are fried well, but in their current form they aren't my go to. 
Wyant's Store is the perfect place for breakfast or lunch. The homey feel and delicious food makes it a comforting spot for sure, and their speed makes it a convenient choice. Aside from the home fries, everything I've had at Wyant's is excellent. Wyant's Store will forever be my go to if I'm in White Hall and hungry for a cheesesteak, burger, or some gravy.