Lawsuit Against Albemarle County Schools
Emily Mais, former assistant principal at Agnor-Hurt Elementary School, filed a lawsuit on April 13th, 2022 against the Albemarle County School Board for a racially hostile work environment.
The lawsuit came after an incident described in the complaint where Mais mistakenly used the words "colored people" during a mandatory anti-racism training. She alleges that she began facing discrimination and harassment after despite her multiple apologies for her, as she claims, "slip of tongue". 
Mais wrote in an opinion piece for the New York Post that she, and several other coworkers, felt the program was introduced at a challenging time as educators were adapting to school after COVID-19. Her article claims, "It was at this exact time our school district decided to introduce controversial policies and mandatory teacher training based on critical race theory." 
Phil Giaramita, Public Affairs and Strategic Communications Officer for Albemarle County Schools, said that the 2017 Unite The Right Rally sparked discussion about the responsibility of the school division who served the community impacted by those riots and what the appropriate reaction would be. The response was to develop a policy that would make clear how the school board saw their responsibilities and obligations. The second decision made by the school board was to involve students in the policy making process. "We were going to go to the people who are most impacted by what goes on in schools." Giaramita remarked that the best, most effective programs they've implemented have been conceived and run by students. 
Over the course of a year the students researched, spoke to scholars and experts, and created several drafts for the policy, one of the first in Virginia. The School Board held public hearings and discussions to hear from the community before formally adopting it in February 2020. Unfortunately the pandemic interrupted the school board's progress the next month, halting their progress. 
In addition to the timing, Mais also wrote that she felt, "[The] curriculum created a racially divisive and hostile environment and about the hurtful comments other staff members made throughout the training, which denigrated them for being white." 
According to Steven Turner, Equity Education Specialist for ACPS, the goal of the policy is to have teachers look at how cultural and individual differences can impact what a child may bring into the classroom and respond effectively to their strengths and needs. "It is a process of trying to eliminate process or structural barriers that may prevent students from reaching their full potential."
When Mais spoke up about her concerns, she claims that her complaints were ignored. In her article she felt that it was important for administrators and supervisors to receive feedback from "someone on the ground, to hear what was actually taking place in the building and the negative effect this training was having on teachers and staff." 
Turner affirmed that part of the policy required that all teachers and administrators be trained in culturally responsive teaching practices. Turner also said that this program relies heavily on the book by Zaretta Hammond, "Culturally Responsive Teaching and the Brain." 
Mais, who is white, described the incident that occurred during a training session, which led to her resignation. "[I intended] to use the phrase "people of color," but as I was talking, I said "colored" instead. I immediately apologized, but one staff member would not accept the apology and berated me in front of the group." 
The lawsuit filed in Albemarle County claims that a black teacher's aide then verbally attacked her in front of all training attendees. The aide accused her of, "speaking like old racists who told people of color to go to the back of the bus," the complaint claimed. 
Mais said she reported the harassment to her supervisors. She holds that instead of recognizing it as an accident, "The district treated me like a racist in need of further "anti-racism" instruction," she claims they called her into several meetings demanding she further address the situation, for which she "continued to apologize — yet my repeated apologies were never good enough." She maintains that the district knowingly let the harassment continue.
As Giaramita described the process, investigations are immediate and specific to the complaint. Some require discussions with one or more people and can range from a day to a week. He added that not every complaint that gets investigated is proven to be true.
Mais maintains  that the school created a racially hostile work environment by ignoring the harassment and she submitted her resignation on Aug. 29 and left her job on Sept. 10.
About the Contributor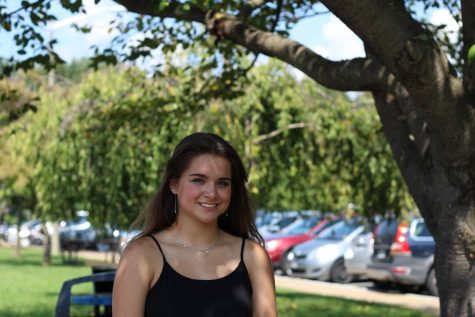 Claire McMahon, Sports Editor
Claire is a senior in her second year of Journalism. She enjoys reporting on student life, current events, and sports. In addition to these interests,...