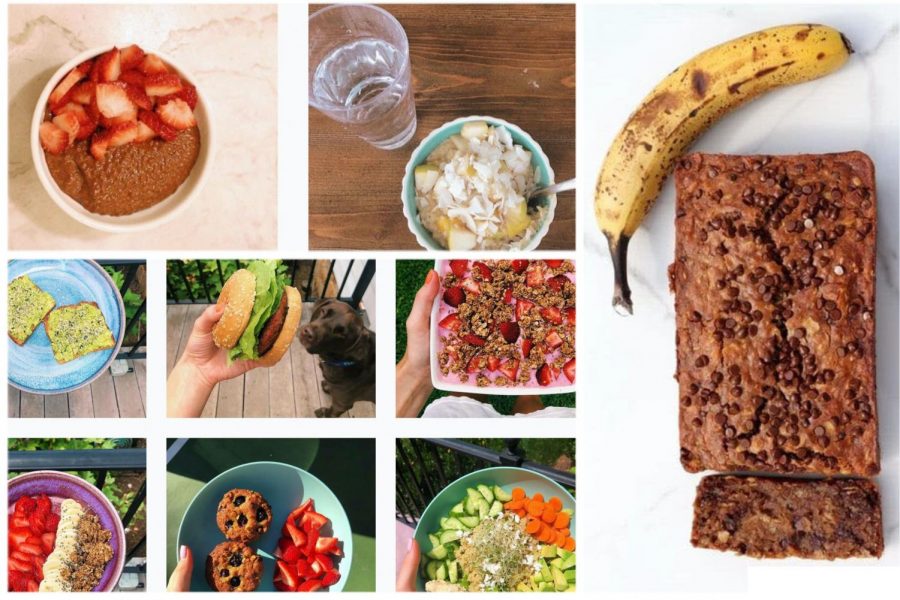 Kimball Sheehan
Worried about developing unhealthy eating habits during the quarantine?  Here are two food accounts to keep you healthy and fit, created by WAHS students Megan Futty and Katie Carter. Their recipes are easy to make and won't waste your groceries!
@foodiefutty by Megan Futty:
Megan has been running her account for almost a year now. Recently, she created a blog where she posts even more healthy recipes.  She has several vegan and gluten-free recipe options posted. Here are some of her go-to recipes for every meal of the day:
BREAKFAST
Instant Oatmeal, topped with banana, almond butter, and hemp seeds.
Overnight oats: oats, non-dairy milk, chia seeds, protein powder, honey, almond butter, and frozen strawberries, mix it all up in an airtight container and refrigerate overnight
Toast with avocado, avocado oil, hemp seeds, chili flakes, and everything bagel seasoning. Scrambled eggs. Strawberries.
LUNCH
Kale salad with avocado ranch, grilled chicken and roasted pumpkin seeds.
Wrap with hummus, lettuce, turkey, avocado, and cucumber. 
DINNER
CUSTOMIZABLE BOWL:   grain base (brown rice, quinoa, basmati rice), roasted veggies (sheet pan of roasted sweet potatoes, broccoli, cauliflower, onion, brussel sprouts, etc.) I just throw whatever I have in the fridge on a pan with some oil and pop it in the oven, protein (chicken, ground turkey, garbanzo beans, etc. cooked in a pan with some oil), topped with dressing (lemon tahini is my fave)
SNACKS
Banana bread (recipe is posted on her blog!)
NUTS and trail mix (I eat almonds 24/7)
Apple with almond butter
Popcorn
Protein bars: Perfect Bar, RX Bar, Bulletproof
Smoothies (frozen banana, strawberries, açaí, date, protein powder, chia seeds, non-dairy milk, nut butter)
DESSERT: (Always a must for Megan. She says, "It's ok to have sweets.")
Ice cream: Oatly, So Delicious, Cado
Literally anything with chocolate
@katiezfoodz by Katie Carter:
Katie started her Instagram food account during the quarantine. She has a passion for cooking and baking anything, especially healthy meals. Here are some of her favorite recipes:
BREAKFAST
BANANA BLISS OATMEAL
– Ingredients –
1/2 cup dry rolled oats (or whole)
1 cup water or milk
1 banana, divided use
1/2 mashed and 1/2 sliced into coins
1 tsp cinnamon
1 tsp chia seeds (optional)
1 tsp flax seeds (optional)
Honey or coconut sugar (to taste)
– Directions –
Combine oats, water/milk, mashed banana, cinnamon, chia seeds, and flax seeds in a bowl.
Transfer the oat mixture into a medium saucepan over medium heat. Heat oat mixture until it gets to your desired thickness and then remove from heat.
Spoon the oatmeal into a bowl and top with banana coins and honey/coconut sugar to taste.
SWEET POTATO TOAST W/ AVOCADO
– Ingredients –
1/2 sweet potato
1 Tbsp extra virgin olive oil
Salt & pepper (to taste)
1/2 avocado
Lime juice from 1/2 a lime
1 tsp garlic salt
1 tsp red pepper flakes
– Directions –
Slice the sweet potato into about 1/4 of an inch thick planks (about 4 toasts) and place in a bowl. Drizzle with the olive oil and sprinkle with salt & pepper. Coat all of the sweet potato planks evenly with olive oil and salt & pepper on both sides and place in a toaster on the highest heat. Heat the sweet potato toasts three times on the highest setting in the toaster (not two, THREE times even if it smells like it is done). Once all of the toasts are cooked set aside on a plate.
Mash the avocado in a bowl and stir in lime juice and garlic salt. Spread the avocado mixture on top of the sweet potato toasts and top with more salt and red pepper flakes. *Optional – add sliced tomato on top of the avocado
LUNCH
CHICKEN AND QUINOA NOURISH BOWL
– Ingredients –
1/2 cup cooked quinoa
1 cup baby spinach
2 Tbsp hummus
1/2 chicken breast, cubed
1/4 yellow onion
1/2 to 1 bell pepper
1/2 cup brussel sprouts, quartered
1 Tbsp olive oil
Salt & pepper
Lemon juice from 1/2 a lemon
– Directions –
Heat olive oil in a medium saucepan over medium heat. Once hot, add chicken cooking for 2-3 minutes stirring occasionally. Once the chicken is just cooked through, add onion, bell pepper, brussel sprouts, and sprinkle with salt & pepper. When all of the veggies are cooked through and the onion is translucent, remove the saucepan from the heat.
In a large bowl, place baby spinach on the bottom and add quinoa on top. Spoon the chicken and veggie mixture on top of the quinoa and baby spinach and then sprinkle with lemon juice. Mix the bowl together until everything is combined and top with hummus.
DINNER
PESTO ZUCCHINI NOODLES
– Ingredients –
2 to 3 medium zucchini
1 large tomato
1 Tbsp olive oil
Salt
2 to 4 Tbsp pesto sauce (can get at a local grocery store)
Freshly grated parmesan cheese (to taste)
– Directions –
Thinly slice or use a spiralizer to cut the zucchini into noodle strips and dice the tomato.
Heat the olive oil in a large saucepan over medium-high heat. Once the pan is hot, place the zucchini noodles and tomato into the pan and sprinkle with salt. Stir constantly until the mixture has cooked down to about half the size it was before heated, then remove from heat.
Toss the zucchini noodles and tomato with pesto sauce. Spoon the mixture into a bowl and top off with freshly grated parmesan cheese and enjoy!
GREEK GOODNESS BOWL
(Recipe courtesy of Maddie Castellano)   https://www.sandyfeetandtastyeats.com/blog/greek-goodness-bowl
– Ingredients – 
For the Chicken:
2 chicken breast, cubed
1 lemon
1 clove garlic, minced
1 Tbsp olive oil
1/2 Tbsp dried oregano
1/2 Tbsp dried rosemary
For the Falafel:
1 can cooked chickpeas (drained)
1/2 red onion
1 cup cilantro
Juice of 1 lemon
2 cloves of garlic
2 Tbsp whole wheat or spelt flour
1 Tbsp olive oil
1 tsp cumin
1 tsp salt
​For the Tabbouleh:
1 cup quinoa 
1/2 large cucumber, chopped
1/2 medium red onion, chopped
1 large tomato, chopped
1 cup cilantro, chopped
1/2 cup crumbled feta 
1 bell pepper, chopped
1 tsp red wine vinegar
2 Tbsp lemon juice
1 Tbsp olive oil
salt and pepper (to taste)
For the Tzatziki:
1 cup greek yogurt
1 Tbsp lemon juice
1 tsp minced garlic
1/2 large cucumber, minced
1 Tbsp cilantro or dill minced
Salt
– Directions –
For the Lemon Herb Chicken:
Cut chicken breast into cubes and place them in a Ziploc bag. Drizzle olive oil, lemon juice, garlic and herbs over the chicken. Cover the chicken evenly and leave to marinate for 30 mins- 1 hour.
For grilling, skewer the chicken with wooden skewers. Grill for 5 minutes on each side, or until cooked thoroughly. Add a squeeze of lemon juice and some salt and pepper.
For the stovetop, set temperature to medium heat. Cook the chicken for 6-7 minutes, or until thoroughly cooked. Squeeze extra lemon juice on top and season with salt and pepper.  
For the Oven Baked Falafel:
Preheat the oven to 400 degrees. In a food processor or blender mix together canned chickpeas (rinsed), cilantro, garlic, lemon juice, olive oil, red onion, cumin, and salt. Blend for 30 seconds, or until completely blended. Add 1-2 Tbsp of whole wheat or spelt flour to thicken.
On a baking sheet make even 12 balls out of the mixture.  Place in the oven and leave them to make for 30 minutes until crispy and no longer doughy in the middle.
For the Quinoa Tabbouleh:
Cook 1 cup of quinoa and then place in the fridge to cool off. Dice the red onion. cucumber, tomato, cilantro, and bell pepper. 
When the quinoa cools combine all the vegetables with the quinoa. Sprinkle in 1/2 cup of feta cheese with the mixture. Add lemon juice, olive oil, and red wine vinegar. Season with salt and pepper to taste. 
For the Tzatziki Sauce:
Mix 1 cup of greek yogurt with diced cucumber, garlic, cilantro, lemon juice, and salt and pepper.
Let it cool in the fridge until the meal is complete.