Review: Online Workouts
With sports practices cancelled and gyms closed, people are forced to workout at home to stay fit. Below are four great online programs that offer a range of workouts to keep you busy during quarantine. You can find them on YouTube. Each program offers videos for a range of abilities and promotes overall well-being. 
Looking for ways to stay calm and grounded during this perplexing time can be attained by incorporating yoga into your daily routine? Adriene's workouts range from simple yoga poses for beginners to 30 minute HIIT (high intensity interval training) workouts that work to burn calories. Her videos are categorized into playlists, making it easy to find videos that best fit your workout goal. 
Recommended Videos: 
#3  MadFit 
MadFit's workouts are all equipment free and her channel offers a range of videos. I like her playlist of cardio workouts because I am not much of a runner but need to increase my cardiovascular strength. Her workouts and channel are similar to Blogilates and Chloe Ting however most of her videos do not include rest/ breaks which I definitely need! 
Recommended Videos:
#2   Blogilates  (or YouTube @blogilates) 
With 5 million subscribers on YouTube, Blogilates combines Pilates, Pilates interval training, and other "bootcamp" exercises. The number of videos are endless and offer a wide range of workouts from learning how to do a split to beginner pilates. Like MadFit and Chloe Ting, Blogilates also offers videos specific to target either abs, legs, or arms. An interesting feature is most videos include a small group working out alongside Cassey, the leader of Blogilates. It can be motivating to see others workout while you are attempting the workouts by yourself. 
Recommended Videos:
#1   Chloe Ting  (or YouTube @chloeting) 
Chloe Ting's videos are my personal favorite for a variety of reasons. Her workouts are difficult yet set to upbeat music and her channel is centered around the idea of body positivity and encouraging one another to be active. Her website clearly outlines day by day workout plans, making it easy to stay on track and set a goal for yourself. Most days include a set of three to four videos that have you working out for a total of 30-45 minutes. 
Recommended Videos: 
About the Writer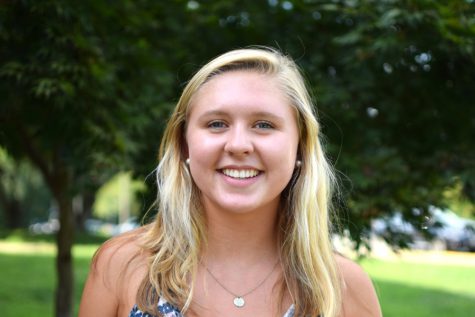 Sophie O'Donnell, Social Media Editor
Sophie O' Donnell is a senior at WAHS and this is her third year in journalism. She loves watching UVa basketball and going out to eat with her friends....