The Ultimate Question: Mezeh, Cava, or Med-Bar?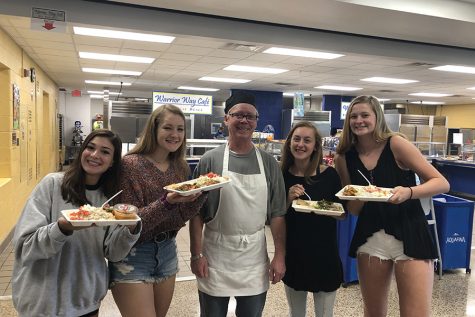 Each Friday at lunch, a variety of Mediterranean style dishes are offered in the Western Cafeteria, commonly referred to as "Med Bar" by students. Choices in this decadent meal include seasoned chicken filets, meatballs, hummus, flatbread, pita, and a variety of hearty veggies. This well-rounded school lunch has become a cornerstone of Western's most-loved food and has student's longing for Fridays as soon as Monday hits.
Many vegetarian students were sad to see falafel, a timeless non-meat option, temporarily taken off the menu; however, much to their delight, hummus is now being offered as an alternative.
The increased sustainability of cafeteria trays, thanks to Mr. Mulcahy and the Ecology Club's determination, has also allowed conscious consumers to enjoy Med Bar every week.
The process of changing the cafeteria trays began ten years ago and has been a slow yet steady journey of communicating with administrators, student led groups, environmental compliance managers, and the food service staff.
"Most of it was staying the course, continuing to fight for and advocate not just as a school academy for the environment, but as a division," Mulcahy said.
"Friday is my favorite day of the week, not only because it's the day before the weekend but also because it's Med Bar day. For my APES project I'm trying to reduce my waste and produce as little as possible. The school cafeteria recently implemented biodegradable plates which has made it very convenient for me to eat school lunch," senior Caity Driver said.
Inspired by the restaurant Cava, Mr. McLernan was eager to introduce a new type of food to Western's cafeteria.
"We went there a few times and liked the food. I didn't know a lot about Mediterranean food but I did a lot of studying and we learned to make falafels and different things with hummus. My assistant Kevin is a trained chef so he got inspired to make a lot of spicy items," McLernan said.
McLernan attributed most of Med Bar's success to the hard work of his cooks who, "make it fun and exciting to create," especially Kevin Hall who engineered many of the recipes.
Some students struggle to choose the single best part of the iconic meal.
For Mr. McLernan, the meal was an instrument in the cafeteria's mission to adapt to students' interests.
"We're always looking for new ideas. This is my fifteenth year here are we've really seen tastes change over the years. When I first started here we sold a lot of cereal, now everybody likes biscuits for breakfast. As students, if you have other things that you'd like to see in the cafeteria that are affordable, we're always looking for new ideas," he said.