Meet "The Sound of Music" Ensemble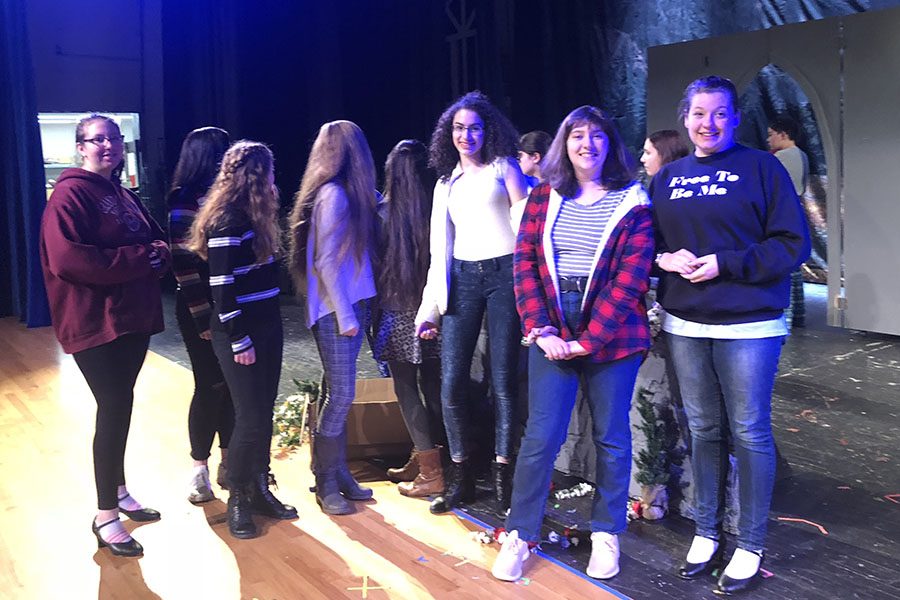 Every year, Western's drama department puts on a spring musical. And every year hardworking students help put in on in every step of the process. From acting, assistant directing, stage managing, lights, and more, there are many ways to get involved. One group that is integral to the show going well is the ensemble. These students act in group scenes and take on other "smaller" roles. The ensemble usually doesn't get much attention, and the Western Hemisphere talked to some of these actors to learn more about what they do.
Abby Cole, Member of the nun ensemble
WH: How does the ensemble's role compare to the role of a main part in terms of commitment?
AC: It definitely depends on the musical. Having an ensemble role definitely requires less rehearsal time but specifically this year, since "The Sound of Music" is not an ensemble show, it's super low time commitment. I'm in the nun ensemble, so I do have to be there more than some of the other ensembles, but I still don't have to be there every day like the leads do. In a couple weeks Tech Week will start, and then everyone in the show will be rehearsing until 8 or 9 because we do run through of the show.
WH: Who introduced you to theater?
AC: Even when I was younger, I've always been super dramatic and over the top and loved being the center of attention. I mean, I was quiet around people I didn't know but in my family, I was always just running around the house, screaming, singing, and being crazy. Then I saw
Footloose at Western with Ryann Sheehy and it was so wonderful. I always knew I wanted to do some sort of performance, but when I saw Footloose with Ryann Sheehy when I was in seventh grade I knew I wanted to do theater at WAHS.
WH: How did you become interested in this year's musical?
AC: It's my senior year and my last chance to be a part of a musical. Even though "The Sound of Music" wasn't my first choice, I wanted to do Mama Mia, I still wanted to be a part of it.
Zach Goadhouse, Party Guest
WH: How long have you been involved in theater?
ZG: I haven't been involved in drama very long, the last time I was involved in anything theater-related was my elementary school's production of Mary Poppins that I believe was in 4th grade. I've been interested in theater for a long time though, I really adore musicals and never really had an opportunity to be in one until now. I'm in Drama I this year also, which gives me more opportunities to help with miscellaneous chores for the sound of music in the class' downtime.
WH: Did you have any part in deciding "The Sound of Music"?
ZG: I didn't have any part in deciding about the musical, but since I'm in early bird choir, I was one of the first to know about the choice. Some of the other options they were thinking about were Into the Woods and High School Musical, and I do wish they had gone with the latter.
WH: How does the ensemble's role compare to the role of a main part (practice time, dance, time commitment)?
ZG: Being in ensemble isn't very difficult, especially compared to if I had an actual character role. We have 1/5 of the amount of practices compared to the others and the most difficult thing we had to do was learn a short dance.
Caroline Scogna, Member of the nun ensemble
WH: Who introduced you to theater?
CS: I was mainly introduced by theater through one of my friends who's been acting since we were in middle school. She made it look super fun, so I decided to try it out and I loved it because I've always loved to sing and act. I love doing musicals the most because I'm definitely more of a singer than an actor, so during the musical I can improve my acting skills but I also get to sing.
WH: How many songs does the ensemble have to learn and how long does it take to master all of them?
CS: For "The Sound of Music", we've had to learn 5 songs, but they're all in Latin which makes learning them extra tricky because we have to pronounce each word in the song a specific way to make it sound good. A few of the songs we also sing without music in the background so it's important that we know them very well so when we get on stage we can sing our harmonies together. This year it's taken us about 2 months to learn the songs, but some are easier than others depending on what vocal part you sing, so we're always practicing to make sure we know our parts.
WH: Did you have any part in deciding "The Sound of Music"?
CS: Yes! Usually, Ms. Pitts will send out an email over the summer to people that were in the last show and ask for suggestions about what we should do for the spring musical. We'll all give her ideas, vote on some favorites, and then she'll pick a show based on what would work well for everyone in the show, and make sure there are enough parts for everyone.