Georgia Davidson Aims for Olympic Trials
For the first time in Olympic history, Kumite, a form of karate will be offered during the Tokyo Olympics in 2020. Junior Georgia Davidson is striving towards her goal of qualifying for a spot on the Olympic team.
Davidson began training at an Olympic development center this past October in order to prepare for Nationals this summer. She practices three times a week with her new coach, Robert Silverman, in Fluvanna. Davidson has been able to focus more on fighting and sparring, both of which will be offered in the Tokyo Olympics. Along with more specialized practices, Davidson has increased her workouts outside of the karate academy. She conditions on Mondays.
and Wednesday's by running, lifting weights, and working on her agility. Transferring to the training center in Fluvanna has brought new opportunities for Davidson and has given her the chance to work under a new instructor.
"My coach at Lake Monticello Karate has put athletes on the National team every year, so I have pretty high confidence in him," Davidson said.
Davidson's interest in karate began when she was six years old. After watching her older brother John practice karate, she decided she wanted to try. The following year, Davidson began learning American Freestyle Karate. With the Olympics in mind, she began focusing on the style, Shotokan, in 2017.
"It is more traditional but it feeds into the sport aspect and that will be in the Olympics," Davidson said.
Before Davidson can qualify for the Olympics, she needs to make the USA National Team by placing in the top four at the national championship, which will be held in Chicago next summer.
Along with competing, Davidson also contributes her time and skills to the sport by helping coach younger athletes.
"It's so cool to guide the kids through their journey through the belts; coaching and watching them blossom is an incredible experience," she said.
Davidson's love for the karate is apparent in her dedication to training and teaching others. With her goals in mind, Davidson keeps her head up and reminds herself why she started karate in the first place.
"I'm super excited for this opportunity, and I remind myself  after each day of training," Davidson said.
"It keeps me motivated. Whether or not I make the U.S. Olympic team some day, I will leave the experience as a better athlete and person."
About the Contributor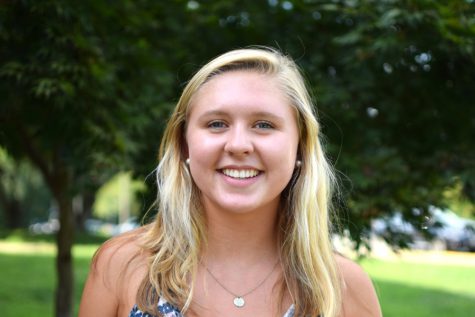 Sophie O'Donnell, Social Media Editor
Sophie O' Donnell is a senior at WAHS and this is her third year in journalism. She loves watching UVa basketball and going out to eat with her friends....