Model Congress 2017
The senior government classes' annual Model Congress event took place on March 9, 2017, as seniors dressed to the nines, come to debate their bills in a simulation of the legislative officials in Washington. From committees to floor sessions, the Western Hemisphere has you covered with all-day updates.
Committee Sessions
House Judiciary Committee, 9:15 am
Timothy Desimone's Voting Rights Act for Prisoners with Completed Sentences easily passed. The goal is to give ex convicts voting rights, seeing as 3.1 million former convicts are not allowed to vote. "The sentence is finished upon release," said Desimone, "and at the end of the sentence, the punishment should end."
–Grace Berigan
Senate Judicary Committee, 9:25 am
The Senate Judiciary Committee is discussing several bills relating to drug possession and abuse. While one bill offers rehab to drug offending inmates, another is specifically addressing jail time for drug possession and the punishments. The goal of the bill is to keep the length of jail time low and to add rehab to offender's sentences. The punishments for first time offenders include community service, while second time offenders receive probation, and third time offenders face jail time. Both the bills decreasing jail time and the bill offering a rehab program to drug offending inmates were passed.
–Brookelyn Shantler
House Judiciary Committee, 9:30 am
Julian Waters's Sexual Assault Victims Assured Justice Act was a highly controversial bill, which provoked a lengthy debate about cruel and unusual punishment, as well as the degree of punishment for sex offenders. This act proposed optional castration and cognitive therapy as opposed to a lengthy prison sentence. Several argued that this proposal did not directly address violent behavior and would only eliminate one aspect, and it almost unanimously did not pass.
–Grace Berigan
Senate Armed Services/National Security/Foreign Relations Committee, 9:47 am
Most bills seem to have been passed so far in the Senate Armed Services/National Security/Foreign Relations committee. This includes a tax on private contracting, federal funding for preschools, decreased funds for a private prison corporation, and a motion to decrease suicide by use of firearms. These last two bills passed unanimously.
–Jessica Klees
House Homeland Security, Foreign and Veterans Affairs Committee, 10:00 am
So far in the Homeland Security and Foreign and Veteran Affairs Committee all three bills discussed have passed. The second bill was proposed by Chairman Anna McLean, and was passed unanimously, with all in favor. It said that any military veteran that enlisted in the US Military from a foreign country should be protected because of their affiliation with the United States. "The more we leave these people in those countries, the more danger they are in," said Chairman McLean. 27,500 applicants try to get a visa every year, but only 7,500 are given- less than a quarter of the applicants.
–Sidney Jackson
President Bickers' Office, 10:05 am
"You are our future," Mr. Bickers said, explaining that he'd like to see young people with an attitude like JFK, where people think about what they can do for the country, rather than just themselves. He said, "It's so divided in the world right now, and nothing gets done." He said that people need to stop feeling that they are entitled, more entitled than someone else. "As long as everyone has an equal opportunity, regardless of race, gender, religion…" Bickers emphasized that everyone has 24 hours in a day, and it's what you do with it that matters. He hopes to see bipartisanism from this year's Model Congress.
–India Mawn
Senate Health, Education, & Labor Committee, 10:20 am
The Health/Labor/Education committee is running smoothly. Chanti Anderson, a freshman page said, "Everyone has been debating a lot, things are good. They've mostly been passing bills."  Bills including Planned Parenthood, TRAP laws, and other issues have all come up. Everyone in the committee is contributing to debate. Every time a bill is brought up, people immediately begin taking notes and diving into the discussion. "It's really fun just being here and learning," said Chanti Anderson.
–Evan Hajek
House Homeland Security, Foreign and Veterans Affairs Committee, 10:21 am
The Homeland Security, Foreign and Veterans Affairs committee has discussed three bills which have all been passed. However, the last bill was a close call. A Republican representative proposed a bill to provide in-state tuition to public colleges for military children who have moved at least twice for military stationing. The committee chair, Anna McLean, was skeptical of the bill due to its great expense. She also brought up the the point that many military children move a couple of times at a young age, and still reap the benefits of the bill, even though they had moved the same amount as any other child. In rebuttal, an opposing committee member reminded the group that some military children never live inside the United States, meaning they have to pay out of state tuition for all public colleges. Despite the conflicting opinions, the committee came to a consensus and passed the bill.
–Sophie Creager-Roberts
House Leadership, 10:30 am
The Model Congress leaders spent the first portion of the day creating a schedule for the House Floor Session. As committees passed bills and brought slips with their names to the leaders, they organized the bills by priorities. They also combined similar bills, decided how long to discuss bills on the floor, and decided which bills were open and closed. The first bill to be discussed was a combination of two bills to protect prison inmates. One bill, by Abby Lohr, allows inmates to take classes to get their GED.  The other bill was written by Austin Rhea and Grace Rainey ensures the mental health of inmates. The second bill to be discussed gives the right to vote to prisoners who have finished their sentences. This bill was written by Tim DeSimone. The third matter to be discussed is Brynn Jefferson's bill legalizes doctor assisted suicide for patients who have proved their eligibility.
–Rosie Dougherty-Hermann
House Ways and Means Committee, 10:40 am
The Ways and Means committee has had lots of success this morning. The committee was able to pass five of the eight bills that were proposed. Esther Harris, chair member of the committee only had good things to say about her committee.  "Everyone is being very respectful and people are voting accurately based on the person they are representing."  The committee discussed bills such as foster care revision, cutting student loans, and space. One observation Esther made was all the bills that were passed were also amended.
–Evan Hajek
House Education Committee, 10:45 am
The education branch of the house passed and failed many bills in their initial meeting. Some of these included the Universal Pre-Kindergarten act, many standardized testing, and curriculum bills, some of them proposing a removal of standardized test and some of them proposing a standardized tests on a national scale. Other debated bills include a nationwide mandatory personal finance/Econ curriculum, and a national sexual assault awareness on campus information center.  Many were passed and moved onto the first floor session. One of the most fiercely debated bill was the Pre-Kindergarten act, and the bills in favor or removing standardized testing.
–William Peritz
 Floor Session 1 & Afternoon Committees
Senate Floor, 11:15 am
On the Senate floor, many bills were passed and several denied. One bill that caught attention was bill #202, the Conversion Therapy Ban. This bill was trying to ban all states from allowing conversion therapy to occur. Conversion therapy is when LGBT minors are forced to become heterosexuals  through a series of harsh punishments. This therapy has caused many suicides. As of now, it is legal in 45 states. In the end, the bill was passed with a vast majorities of "yay." Bill #200 was another point of interest. It discussed assisted suicide, which was a way of allowing a person who has a terminal illness or is in the, "vegetable state" to choose whether or not they want to be taken off of life support in advance. The final decision was a pass.
–Sidney Jackson
House Floor, 11:25 am
Emotions were running high in the House of Representative's first floor session. Several times, one or more representatives broke into shouting and the debate was interrupted. One of the most notable occurrences was during a debate for mandatory paid paternity and maternity leave in businesses. Representative AJ Donovan, a republican, was speaking. His major point was that businesses can't afford months of paying for someone who isn't there. In the middle of speaking, Representative Hannah Clark shouted, "Have you ever experienced [giving birth]?" This outburst earned mixed reactions. It was described as "an inappropriate comment," and "Hypocritical," referring to the fact that Clark had never, in fact, given birth herself. Donovan himself had much to say in retaliation. "She hasn't given birth, and is not entitled to say that. The debate was about maternity and paternity leave, meaning that it applies to both men and women. She did not add anything to the discussion." Donovan agreed with statements that Clark's outburst made the Democratic party look like children, and that she derailed the discussion from the healthy debate it had been.
–William Peritz
House Judiciary Committee, 1:45 pm
The House Judiciary Committee passed bill SB 101, which pertains to concealed carry laws. The bill had proposed lowering the minimum age for concealed carry permits for handguns from 21 to 18, and was sponsored by Senator Adcock. This bill was mentioned by multiple representatives while on their lunch break, and was generally regarded as one of the more controversial bills of the day so far. Lauren Rider spoke in support of the bill, comparing 18 year olds weapon holders to people of the same age in the military. "If you can go to war, you're responsible," she explained. Rebecca Williams also agreed with the bill due to the classes and training for 18 year olds that the 21 year old permit holders wouldn't have.
–Julianne Kirby
About the Writer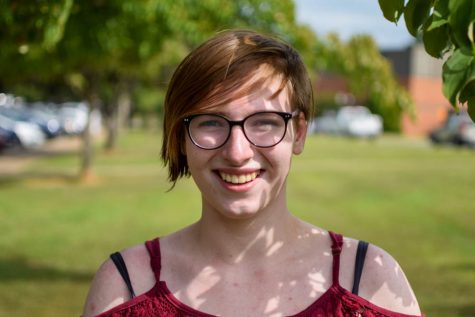 Olivia Gallmeyer, Editor in Chief
Olivia Gallmeyer is a senior journalism student known for her groundbreaking work on cool girls who do cool things and her vast portfolio of pictures of...