WAHS Students Take Political Action
Hang on for a minute...we're trying to find some more stories you might like.
On the day after Donald Trump's inauguration, hundreds of thousands all over the world marched to support women's rights and issues. Western students were not an exception. From the protest in Washington to the march of support at Ix Art Park in Charlottesville, guys and girls from our school joined the crowds. Among the crowd were students Indigo Witt, Caroline Davies, Jackson Berigan, Justin Roberts, and Megan Balber.
Students had many different reasons for attending the march. Junior Indigo Witt went to the protest because "my mom and I were really excited when we heard about this women's march that was happening. So we left Friday night."
Each person had a unique experience at the march, but they were generally very positive. Many felt like they had a sense of community with the other protesters marching with them.
Caroline Davies, a sophomore, really enjoyed marching and expressing her feelings with others. "Overall, the experience was really amazing.  I would recommend it to anyone. It felt really good to be with a group of people who agreed with me and who were just as upset as I am, and it just felt like a community."
Witt felt a similar way. "I wasn't the kind of person that held the sign and was screaming all that stuff, but it was just great to actually just be there and be a part of something bigger than myself."
Senior Megan Balber felt that the experience "was really positive and uplifting, and it had a lot of hope. A lot of the people I met there were really nice, and there were a lot of young girls there that were looking up to the women."
Davies said that "it felt like everyone was here for the same purpose, everyone was together, everyone was friends. You don't feel threatened by anyone, you know?"
Davies said that "it was just really amazing, and it was me, and my mom, and my grandma. So it was all three generations, which was in itself a really special experience. It's so hard to describe because there was so much love, and so much community, and so much acceptance, and I just loved it."
The march was a significant event for many people, but it meant something different to everyone. Witt liked that "there were so many marches all over the country." To her, the protest meant that "this was a stand against inequality between women and men. And what I got out of it was that we're  sick of the treatment, and we are ready to protest, and we're not just gonna be quiet and sit still."
Witt also felt that "it was very historic, and I felt like it was very similar to the march on Washington for civil rights; it was definitely on the same scale…I felt like this was something that I'll be able to tell my children, possibly my grandchildren about."
Junior Jackson Berigan said that "it was the first march that I've ever been to. First of all, I've never seen that many people in one place before. When we got off of the Amtrak going into DC and we got into the metro station, there didn't seem like there would be that many people there." But after getting out of the metro, he was surprised to see how many people there were at the march.
The amount of people showing their support was very impressive. Witt said that "there were at least 500,000 people there. And this is definitely going to go down in history as one of the biggest protests in our country."
Balber agreed. "There were tons of people. I couldn't really see much because there were so many people around me, but my dad stepped up on a platform and looked out, and there were people as far as we could see down the streets. You could move around pretty much, but it was hard to go the other way. You just had to go where the crowd was going."
But was the size of the crowd overwhelming? Davies didn't think so. "Actually, not for me because I really like being around people, but there were definitely a lot of people–and there was even the SWAT team, like the police with riot gear on. That was a little freaky, but no one was really violent or anything. It was very peaceful."
The march was also a  way to meet many interesting people from all over the country, even if it was just for a short period of time. Balber said that "when we were marching, other people would come up to us and ask us where we were from and how far we traveled–we didn't have to travel that far, but we met some people that traveled from California and really far places to be in the D.C. march. It was really cool."
Davies said, "You have side conversations with a bunch of different people, but I didn't meet anybody by name. Some people would have a really good sign, and you'd be like, 'Yes, I love your sign!'–you know, something like that."
The poster and signs were also a big aspect of the march. A highlight was looking at all the interesting signs that protesters brought, and everyone had a favorite.
For Witt, "my favorite [sign] was–there was this little boy and he was a toddler, maybe five years old. And his poster was like, "I love naps, but I stay woke." And I was so happy to see the kids getting out there and moms bringing their children to experience this."
Davies said that "[the signs] were very anti-Donald Trump, obviously. There was one, it was a heart and it said, 'Grab it by the protest.' And I really liked that. There were a couple that were really wonderful, and so creative, and so funny."
Balber's favorite sign "was a Meryl Streep sign because I love Meryl Streep, and [she] had a speech at the Golden Globes that was really about anti-Trump and it was really about coming together, and so there was a sign that said, 'What Meryl said.'"
Berigan even made his own sign that he brought to the march. It was an image of Donald Trump with the caption "Russia's Favorite Puppet."
Witt was really moved by the hope and possibility that she saw at the protest. "I remember seeing a baby on the metro…I almost started crying because I was thinking about, like, this is the new generation. The kids are the reason that we're fighting because we want their world to be better than ours."
Freshman Justin Roberts had a very different experience from the other students because he went to the demonstration at Ix Art Park in Charlottesville instead of going all the way  to Washington. "It was actually really neat because even though it was a women's march, it really represented every social movement. It wasn't just equality for women, or it wasn't just women's rights, it was Black Lives Matter, rights for Muslim men and women. There was a lot of sense of unity as well as security. They expected the turnout to be something like 200, and I think they got far upwards of that. Instead of doing a march that would have kind of blocked traffic and caused problems for businesses, what we did was we walked around in the Ix parking lot. It was funny, it was just outside with all of the art pieces and all of the other signs that were already preaching love and equality, so it was very fitting." Apparently, the protesters walked in circles around the parking lot to show their support for the movement.

About the Writer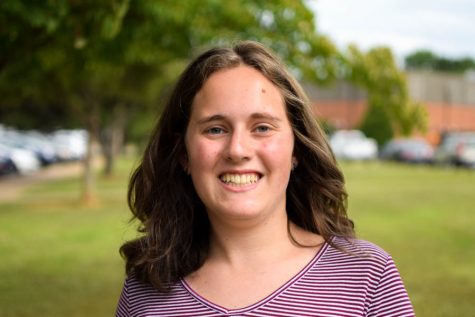 Jessica Klees, Editor-in-Chief
Jessica Klees  still hasn't fully grasped that she's a senior at WAHS. This is her fourth year in journalism and she is an Editor-in-Chief this year,...